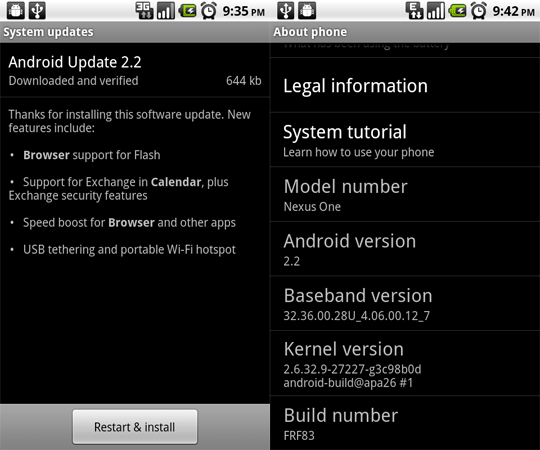 There are a few Android updates coming out over the next few days. First of all, the Google Nexus One is finally getting an official update to Froyo, with the official version being FRF83. There's been two leaked builds over the last few weeks, FRF50 and FRF72, but this one is rumored to be official and is actually coming OTA to those stock users. Google also released their source code and its up on AOSP now.
Here are some more instructions for those who are asking. All these notes pertain to people running an unmodified T-Mobile stock version of Android. No stock update is available for AT&T models at this time. If you have a custom ROM loaded, then refer to developer of that ROM.
If your build number is ERExx, then you still have Android 2.1. The instructions to get to FRF50 are here.
To go from FRF50 to FRF83, download this file from Google, then rename it to update.zip and flash it.
To go from FRF72 to FRF83, download this file from Google, then rename it to update.zip and flash it.
If none of this makes any sense and you are having problems, then sit tight and wait for the over the air update to arrive shortly.
Since the update from FRF72 to FRF83 is only about 644Kb, there's probably not many changes. Unfortunately there's still no FM radio support, which was rumored to be released with Froyo.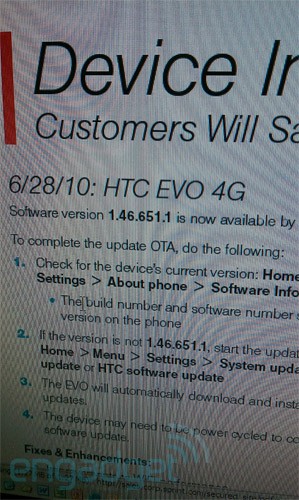 Now onto the Evo, there's reports showing up that are suggesting another OTA update is coming for it on June 28th. This is said to just be bug fixes and somehow "enhance wifi", which could mean 802.11n support officially. Its also said to improve battery life and fix some Exchange issues. With Froyo finally becoming official on the Nexus One today, we highly doubt we'll see it on the Evo by next week, but hopefully within a month or two!