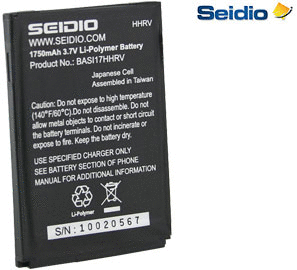 Published on behalf of Wideawake.
Many HTC Incredible users aren't happy with their battery life while using the OEM battery provided by HTC. After seeing many complaints, users are saying the battery is not so incredible. This has lead me to find a solution to these complaints. I, PPCGeeks Owner, Wideawake have personally taken time to compare the OEM battery and a Seidio battery provided by our Mobihand Store on PPCGeeks.com. Below are the details of the tests I ran with each battery.
In my testing I found that the Seidio battery lasts 4 hours longer than the OEM battery. The reason for this is because of the mAh (milliampere-hour) size of each battery. Physically the batteries are the same size. The difference between the two batteries is that the OEM battery from HTC has 1300 mAh, while the Seidio battery from Mobihand has 1750 mAh. Functionally speaking, the Seidio battery lasted 12 hours and 43 minutes while the OEM battery only lasted 8 hours and 22 minutes.
Breakdown of usage concludes: (Tests were ran at 14% battery life left)
OEM Battery Usage
21% Google Maps
21% Call Standby
19% Android System
14% Phone Idle
11% Camera
8% Display
4% Voice Calls
2% Dialer
Seidio Battery Usage
20% Google Maps
19% Call Standby
19% Android System
14% Phone Idle
12% Camera
7% Display
4% Voice Calls
2% Dialer
3% Wifi
In my conclusion I found that the Seidio battery wins over the OEM battery. This is a major difference in the battery longevity. The Seidio has the potential of being the number one battery for this device. This Innocell Extended Life Battery is designed for the customer who needs extra life, but doesn't want to add any thickness to their device.
To take a look at this battery or purchase it from our store, please click here.