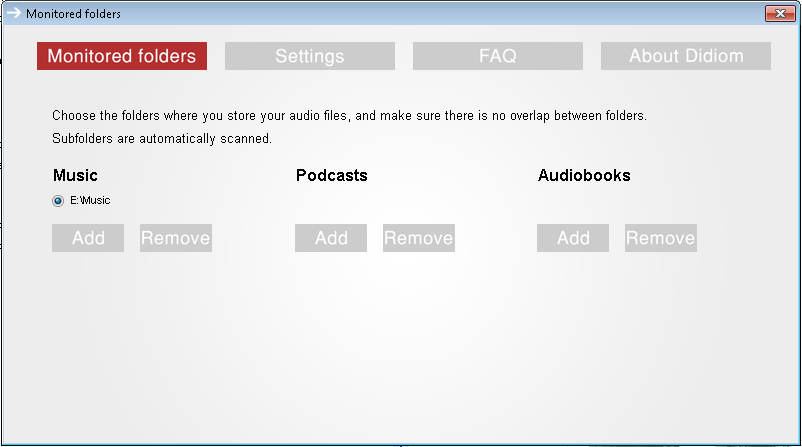 Thanks to Volunteer Newsie GLittler For this great review!
Didiom was founded by Ran Assaf who has spent years working in the communications industry. His work was soon joined with Peng Li and Lindsey Liao to develop the Didiom software
Didiom is a music streaming program for Windows Mobile Professional and Blackberry devices.  Didiom streams the music from your internet connected PC directly to your phone with minimal setup and comes in two varieties: Didiom, which allows you to stream five tracks at the standard 64kbs and Didiom Pro allows you to stream unlimited audio files. Pro will cost either $0.99/month or $9.99/year
Installation and Configuration
Installation is incredibly easy and consists of two parts. The first is the desktop Client which is downloaded from the Didiom website and can be installed on a PC running Windows XP SP2 or greater.  After installing the desktop client and signing in all that is required is choosing what folders to monitor for music podcasts and audio books.
The mobile client is also simple to install. The Windows Mobile version can be downloaded either from the Didiom website or the Windows Mobile Marketplace on your phone.
User Experience
The main screen has only four options. Search allows you to search either by Songs or Albums or Artists and Playlists or you can search through your Podcasts and Audio books. You can also browse by the samecategories; however only thirty results are displayed at one time. After selecting a song you are given the option to either download or stream the song. The settings are limited to the streaming bitrate and the folder to download files into.
The player itself is a simple iPod like interface with Play/Pause, Stop, Forward and Backward buttons. The title of the song is the only other object displayed on screen. There is no option for repeat or to shuffle the selected music.  Downloading a song only takes a little more than a minute and streaming only takes 5-10 seconds to buffer.
Pros & Cons
Pros:
Easy to setup
Streaming audio from any pc in the world
Ability to download directly to phone
Finger friendly
Simple interface
Cons:
Lack of features for playback
Can only stream from one location at a time
Player does not buffer next song in playlist before the current song is completed
No album art
Limited search options
Does not respond to Bluetooth controls
Closing Thoughts
Didiom is an excellent program for streaming and downloading your music collection from anywhere in the world. It is elegant and easy to setup.  Power users like myself will likely find the simplicity to be a hindrance more than an advantage. Didiom's excessive white space makes it look more like it should be on an iPhone instead of a Windows Phone or Blackberry where users crave function over elegance.  The lack of playback abilities and Bluetooth functionality combined with the 10 second delays between songs makes this unviable for my primary media player on my phone. It is however extremely useful for downloading that infrequently played song located only on your home computer or for streaming long podcasts (Like the PPCGeeks Podcast) and audio books. Regardless of the faults of this program it is worth the $10 a year subscription fee. With more features and improved networking capabilities it could become a top tier audio player that could make audio on storage cards unnecessary.
Overall Rating 7/10
Folks! To Celebrate the review of Didiom Pro, We are giving not one, not two, but TEN Didiom Pro keys for your enjoyment and pleasure. These keys will last a year and expire in 2011, so get them while they're hot!
To enter, merely post a comment in this article and we'll randomly select ten of the commentors. We will then email you your keys!
The Contest will end one week from today, on 05/26! so Hurry!
-Laos101