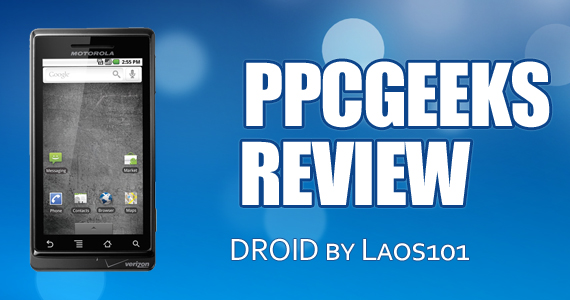 Hello Users!
Courtesy of Verizon Wireless, we here at PPCGeeks.Com took a moment and got in depth with the Motorola Droid, a luxury Android smartphone.
Since Q4 of 2009, the DROID has taken the smartphone world by storm. Advertised as a sleek, cool, and perhaps "Nerd" oriented with its "DROID Does" ad campaign, this device holds true to the rumors of excellence.
As we were reviewing it, Android 2.1 was released as an update to the device. With new and anticipated features such as pinch to zoom on the webkit browser, it was quite an exciting experiencing to get a good look at it, and compare it up with the Touch Pro2.
So READ ON! And find out which device we preferred in our review, the equally priced Touch Pro2 or Motorola DROID!
So. I got a good look at the Motorola DROID in this review session, and I have to say its an amazing device.
it was my first "True" experience with Android. I tried it every now and then on the HARET mod for Touch Pro2, but it simply doesn't do justice. The system is so clean, so polished, it makes you weep to think of how jagged a system like the Touch Pro2 you once lived with, thinking how your life was over.
Now not to dramatize, i admit that the Touch Pro2 has its cons, though very few. its a powerful device, and has a better experience when dealing with a business perspective of news and messaging. The DROID however has much more accessible software, and is VERY intuitive. The capacitive keys change function every time you move from app to app. In google maps you search for businesses. in the phone app you search for contacts, and so on.
The Touch Pro2 though is an amazing speakerphone device. Not to mention, its a handyman's phone. if you need to do something and there is no direect method, it has the indirect method. The DROID has got nothing on the versatility of the Touch Pro 2's Windows Mobile 6.5 Operating System. I prefer the Touch Pro2 as its my niche, but i cannot hate either device, they are both a powerful, if not dangerous concoction of ingenuity and simplicity.
In the end you can't be beat. at $199.99 MSRP for a two year contract, and the beauty of Verizon's very reliable 3G network, i invite you to try either device for Mothers Day, Fathers Day, or even 'You' Day.