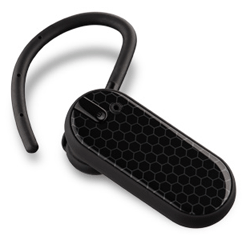 Bluetrek has raised the bar for all Bluetooth headset manufacturers and may have just changed the way that consumers look at Bluetooth headsets in general, with the release of the latest in their long line of headsets, the Bluetrek Crescendo. The Crescendo comes with many of the typical features and also utilizes Bluetrek's NoiseLock technology, which promises to block up to 85db of external and ambient noises, such as wind, traffic and music. NoiseLock utilizes dual microphones with a proprietary noise-cancelling technology. The headset also offers five hours of talk time and seven days of standby time, per charge.
Where Bluetrek has set themselves very apart from their competition is in a way that seems logical with the progression of today's smartphones and accessories, but has yet to been seen. Until now. The headset has its own free apps via the Talk2Me App Store, with some very intriguing offerings, such as the Personal Handsfree Assistant Dial2Go and bing411. The Personal Handsfree Assistant Dial2Go offers the user the ability to not only place calls via voice prompt, but also listen and reply to emails and text messages via voice, and much more. The bing411 app will allow the user to get news, weather, stock, traffic conditions and more all through simple voice prompts.
It is unknown as of yet whether the apps install onto the headset itself, the phone that is is paired with or function via a dial-in number. The Bluetrek Crescendo retails for $99.99 and is currenly available through Amazon for as low as $79.99. You can expect a reveiw of the headset soon as I just ordered one for myself. Considering the coolness factor of the apps and the technology that drives it, I couldn't resist. If you already have the Bluetrek Crescendo, are planning to buy it or just want to give us your thoughts, let us know in the comments.
Source: SlashGear