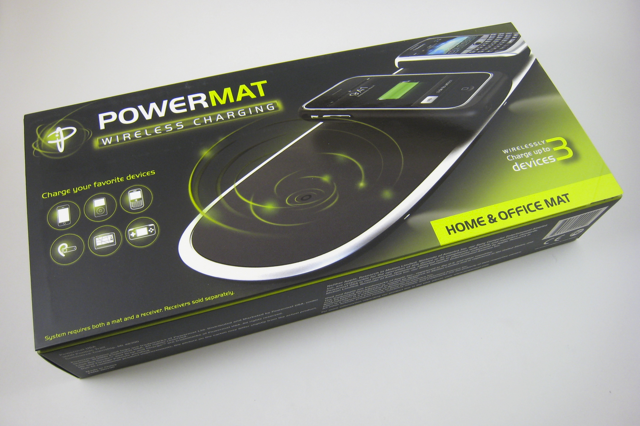 PowerMat Home or Office Mat for HTC Touch Pro2 Review
January 21, 2010 by tsowen, PPCGeeks
Wirelessly charges up to 3 Powermat-enabled devices simultaneously (plus one USB power port). Works with all Powermat receivers. Universal Powercube with 8 tips is included to enable you to charge hundreds of different devices.
Product Features
The Powermat Home & Office Mat wirelessly charges up to 3 devices simultaneously by placing a device with a Powermat receiver onto the mat. There is an additional USB port to charge a fourth device via USB cable. The mat retails for $99.99. Cases and receivers are available at two price points: $29.99 and $39.99.
What's in the box?
Home & Office Mat
Universal, international power supply (Energy Star level 5, 100-240V) with built-in cord management
Powercube Universal Receiver with 8 tips
Specifications
Charging Positions: 4 (3 wireless, 1 USB port)
Dimensions: .625″ x 12.25″ x 4.5625″ (HxWxD)
Input Voltage: 100-240V AC, 50-60Hz Universal
Output Voltage: 18VDC
Output Current: 0.83A
Standby Current: 0.011A
Adapter Power: 15 Watts
The Good
The Powermat Mat is very easy to use. Simply take it out of the box, attach the wall charger to the powermat and plug it in. Find the correct tip and attach it to your device. Then place the receiver on the mat.
There are three charging spots located on the mat. A magnetic attraction between every Receiver and each access point on every Mat assures that alignment is precise and the most efficient charging will occur. This is one of the keys to the Powermat system's ability to charge your devices as fast or faster than the original power adaptor. Once you have it in the correct spot a light turns on below the charging point, and a sound effect is played. You get three points of feedback to make sure your device is charging. The light and sound effect can be turned off.
The Powercube is a small plastic device with a default mini USB tip. Tips fit over the default mini USB cable. Place the Powercube on the mat and you can charge devices. The Tip Storage container
was a nice added touch which can store your extra tips for different devices all in one little nice container.
The Bad
The mat only has three different slots so if your a gadget person like myself you will find yourself running out of room. You will also have to pay extra if you want to charge more than one device by buying extra cases to fit your device.
| | |
| --- | --- |
| MODEL | SUGGESTED RETAIL |
| Mats |   |
| Home & Office | $99.99 |
| Portable | $99.99 |
| Receivers |   |
| Case for iPhone 3G | $39.99 |
| Case for iPod Touch (2nd gen) | $39.99 |
| Battery Door for Blackberry Bold 9000 | $29.99 |
| Battery Door for Blackberry Curve 8900 | $29.99 |
| Battery Door for Blackberry Curve 8300 Series | $29.99 |
| Battery Door for Blackberry Pearl 8110+ Series | $29.99 |
| Dock for iPod & iPhone | $39.99 |
| Back for Nintendo DSi | $29.99 |
| Back for Nintendo DS Lite | $29.99 |
| Powercube | $29.99 |
The Bottom Line
The Powermat isn't entirely free of wires, but it succeeds at being different and at powering your phone. On the other hand, we don't see it fulfilling a need.
More Views
[nggallery id=2]
This product can be purchased in the PPCG Store for $97.95