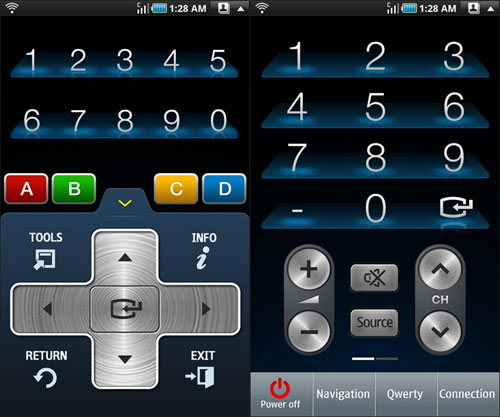 The days of using remote controls may soon be over. Several smartphones and other devices now have the capability with the use of applications to replace your remote control for your TV. The Samsung Galaxy S and Galaxy Tablet are the most recent additions to this new technique.
This Android application does require your TV and the device to be connected on the same Wi-Fi connection where the remote will try to find the TV and add it. Then you are free to use your Samsung Tab or Galaxy phones on-screen QWERTY keyboard, with a 4-way directional pad, to input necessary information for TV functions, control settings and apps on the TV.
TV models supported that we know of so far include: 2010 models supporting Internet@TV (model code 'C'), LED 6500 Series and higher, LCD 650 Series and higher and PDP 6500 Series and higher. Reports of several 2009 models are working as well.
Download it now here!
Hop into our forums to discuss this application. Click here
Source: Samsung