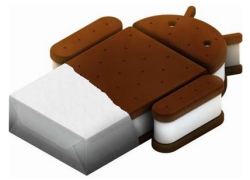 With iPhone 5 on the horizon, Google needs to do something to catch/keep our interest in Android and in the highly competitive marker of smartphones aside from new devices the best way to shake things up is a new OS!!! Google is trying just this with Ice Cream Sandwich!
I just made the leap from Froyo to Gingerbread on my phone (haven't even used Honeycomb yet) and here we are looking at a new OS rumored to come out as soon as early October to compete with the highly anticipated iPhone 5.
According to this article some of the new features/improvements of ICS (Ice Cream Sandwich) are USB host support and the highly anticipated music and movie rentals. Google is rolling out their movie rental service to devices soon and it will consist of movie rentals starting at $1.99 per rental. You have 30 days to view the movie from download date and 24 hours to complete it after you start to view the movie (more information found here). The music service will be like a cloud server to download your music collection to for use on your phone.
More information will be sure to come out as we get closer to release date, but with a lot of big phones closing in on their 2 year anniversary (upgrade time) and the projected release of new devices soon, I anticipate quite the buzz for a while!!
How about you guys? What do you think the chances are of Google holding it's own against the new version of the heavy-hitting iPhone? What features would you like to see in ICS, or what features do you think it will need to compete with iPhone 5?
Sources: Phonearena   BGR   Talkandroid