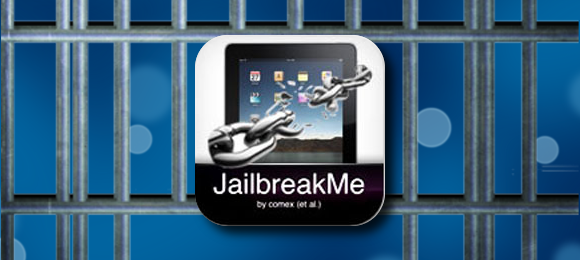 Comex has just released the highly anticipated JailbreakMe 3.0 for iOS 4.3.3. After it having leaked out about a week ago, it's now been officially released. The ultimate iDevice unlocking tool is finally here.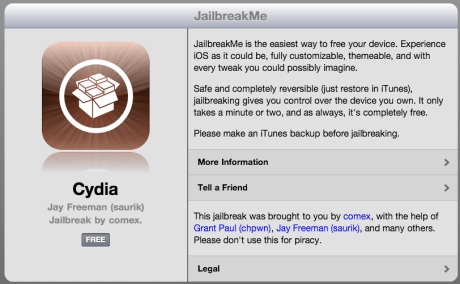 JailbreakMe 3.0 makes use of a PDF exploit just like JailbreakMe 2.0. JailbreakMe was originally used to jailbreak the iPhone and iPod touch running the 1.1.1 version of iPhone OS. Using a TIFF exploit in Safari, this installed the Installer.app. This exploit was patched by Apple Inc. in the 1.1.2 firmware. The more recent JailbreakMe 2.0 released by comex uses an exploit in the FreeType library used while rendering PDF files. The exploit used by JailbreakMe 2.0 was patched by Apple Inc. in iOS 4.0.2. JailbreakMe 3.0 can jailbreak all iDevices (including iPad 2) on iOS 4.3.3 only, with additional firmware update support to come later. Comex's solution is the ultimate jailbreaking solution as you can jailbreak your iOS device by simply using mobile Safari.
It's been confirmed to work on all iOS devices such as iPhone 4, iPhone 3GS, iPad 1, iPad 2, iPod Touch 3G and iPod Touch 4G.
Here's a few things that you should be aware of before you proceed:
• It is always a good idea to take a backup of your iOS device before you hack it.
• JailbreakMe 3.0 supports iOS 4.3.3, so you need to first update your iOS device to iOS 4.3.3 before using JailbreakMe.
• Please note that JailbreakMe does not activate your iPhone, so your iPhone should be activated via iTunes first.
• JailbreakMe does not unlock your iPhone. So iPhone unlockers are advised to use tools like PwnageTool or Sn0wbreeze to jailbreak their iPhone.
The process is as simple as visiting JailbreakMe.com on your iPhone, iPod Touch or iPad's Mobile Safari browser and tap on the Free button under Cydia and then tap on the Install button, this should jailbreak your iOS device and install Cydia just like installing an iOS app from the App Store. It is as easy as that.
Here's a short clip of the install process on an iPhone or iPod Touch:

Another short clip, this time of the process on an iPad or iPad 2:

Anyone wanna share their experience using this latest unlock tool for their iDevice?
Can these jailbreak teams keep up with the enhanced security coming in iOS 5?
I guess time will tell, but we tend to think the devs will always be right there to win us back the freedom of our own devices, every time the big guy tries to lock them down.
Share your thoughts on this subject below.
Last but not least, much respect and appreciation goes out to Comex for this great development.
source: jailbreakme, mobilesyrup