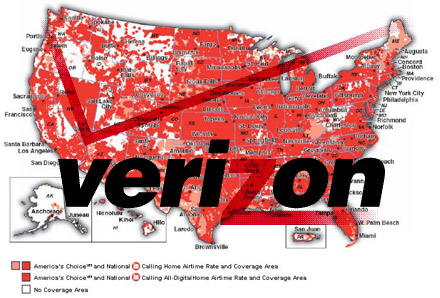 Verizon has been making great efforts, to cover our states with as much 4G as they can, in a fairly short period of time. They remain well on track to meet their goal of adding 4G LTE to 175 markets by the end of the year. Starting July 21st, they are again adding another new set of locations to their 4G/LTE map.
These cities include:
• Wilkes-Barre, PA
• Charleston, WV
• Wichita, KS
• Raleigh-Durham, North Carolina
• Louisville, KY as well as Los Angeles and San Diego, CA are set to receive further expansion.
Verizon customers in the areas mentioned above can get excited about the 12Mbps real-word downlink speeds and up to 5Mbps uplink speeds. If you are interested in an LTE device, Verizon currently has three in its roster: the Samsung Droid Charge, the HTC Thunderbolt, and the LG Revolution. We will continue to keep you updated on Verizon's plans to bring 4G LTE to the rest of America.
How will Verizon's LTE offering stack up to rival T-Mobile's improved HSPA+ network?
Is Verizon's 4G in your neighborhood yet?
Will you stay with Verizon for it's LTE services, or will their new tiered pricing, chase you somewhere else?
Let me know in the comments below.
source: Verizon