This review qualifies for our Big May Giveaway! Feel free to leave a comment and be automatically entered to win one of five CONVERT cases – Also check us out on twitter, leave a message with #seidio and @PPCGeeksDotCom to be entered for a second chance!
We give a special thanks again to our friends at Seidio for letting us review another case of theirs. This time were here reviewing the Seidio Innocase II Surface Case for the HTC Incredible. I can honestly say I don't think anyone will be disappointed in this case. Those who are in need of a case that offers more protection with minimal sacrifice in thickness and weight gain should love this case as much as I do. With it, you are in charge of how much protection you need and when you need it thanks to the unique design and protection layers available.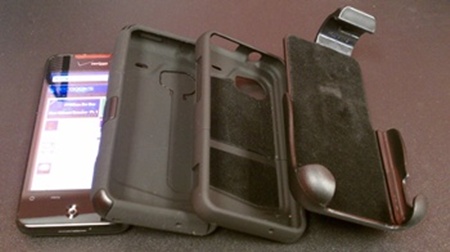 My first impression after applying the first layer of the case was it is very thin. It does not add a lot of thickness to the phone unlike many other cases out there. The first layer snaps on to the phone in a two piece arrangement, rather than the standard one piece arrangement most cases use. As a result, it feels much more sturdy. It is designed from a hard and flexible material, with a unique soft-touch rubberized texture that gives me a better grip when holding the phone.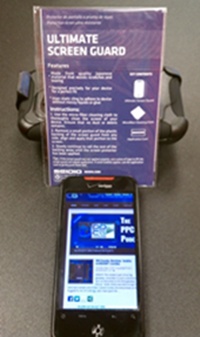 Let's talk about the Ultimate Screen Guard. It's crystal clear, easy to apply and actually the easiest and most stress free protector I've ever tried to apply to any phone. I work in a phone store so that is wonderful for me to find something so simple. The protector does have cut outs for the optical mouse pad and speaker for the ear. It covers the whole front of the phone unlike other protectors who only cover the main screen area and there is not one single bubble in it. I am thrilled that the installation went so well, and of course having a clean screen using the microfiber cloth provided was a big help.
The second layer of protection is the rubberized and hard plastic skeleton like shell that makes it much more durable for days you expect to be rougher on your device. This shell covers the first layer of the case and adds just a small amount of thickness to the phone. If you are one of those who drops your device on roads while working, running etc. this layer of protection will suit your needs just fine.
The third layer of protection is the holster. I chose not to use it but that's for you to decide. I do like it but don't have a need for it. There are many workers out there who would disagree and love to have the holster. This holster is very sturdy and I can't imagine anyone breaking it by a hard drop. The spring clip is very easy to use and doesn't scratch any parts of the case as it lies over it. There is a felt lining on the inside of the holster which protects the phone even more because you are putting the phones screen face in. Another great feature is the clip also has a strip of rubber on it to prevent the holster from scratching your case.
Overall this case is definitely my favorite so far. I don't see a need to use each layer of protection on a daily basis but they are all great to have. The first layer with the screen protector is just like the average silicon cases most of us have tried before except the Seidio Innocase is much more durable and easy to apply. As you can tell in the images above, the cases aren't really adding much thickness to the phone. Still, my favorite part is that the screen protector was a breeze installing! When I go jogging I will take those extra layers of protection with me and the holster also so I don't have to worry about dropping it again. With the Seidio Innocase II on my Incredible it looks brand new! Who wouldn't want one?