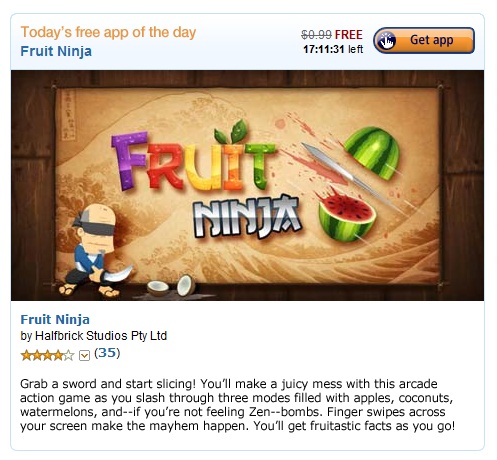 PPCGeeks continues on spreading the word for the Amazon App Store that Android devices can get one free application per day, until further notice. If you aren't sure what's available today or haven't looked yet, today only you can get Fruit Ninja for free. If you don't grab it today you will be paying $.99 for the game tomorrow or anytime after.
Keep in mind you only have about 17 more hours to take advantage of this great deal. That's plenty of time to get the Amazon app store installed on your phone in case you don't have it yet. To install it, follow this link here. To have a look at the Amazon app store before you install, click here. If you already have it, way to go!
Not sure what Fruit Ninja is exactly? The image can almost tell the story for you but we will give you a brief description. Fruit Ninja is a very popular action game where you are to slash through different types of fruits and create large amounts of destruction. You swipe your finger up across the screen to deliciously slash fruit like a true ninja warrior. With three different games modes in single player and worldwide leaderboards using Openfeint, the addictive gameplay will keep you coming back for even higher scores.
Have you already gotten this game installed and chopped your way through some levels? If so, let us know how fun it is to you? If you haven't installed it already, what are you waiting for? It's a great game to pass time but we warn you, it may be very addicting for some of you. Enjoy!