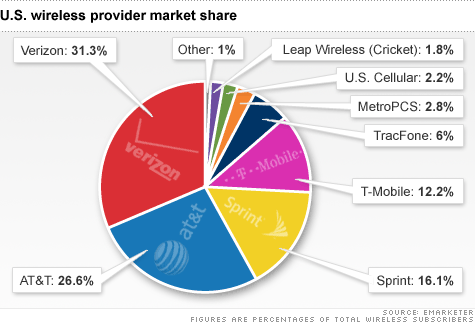 We all know that with AT&T buying out T-Mobile, this will make AT&T the largest wireless company in the United States from previously being the nation's second and fourth providers. Sprint would then be third in the wireless industry and only then control about 16% of the market, while Verizon and AT&T would own more than 70% of it. We have seen where Verizon Wireless wasn't even interested in Sprint but do you think they should think about that a bit longer?
Neither company has said they wanted to do this but sources suggest it may be a good idea. For Sprint, if they want to gain more market share, they may need to make some changes and this is just an option being suggested. The merger does bring fierce competition to Sprint so it will be interesting to see what they will do. See what Dan Hesse and also Dan Hays, a partner with PRTM ,had to say about the AT&T and T-Mobile merger below.
"I do have concerns that it would stifle innovation and that too much power would be in the hands of two companies," Sprint CEO Dan Hesse said at a panel discussion while at CTIA.
"This is a very worrisome development for Sprint," said Dan Hays, a partner with PRTM, which consults with the telecom industry. "The most attractive option is for Verizon to decide that an acquisition is now viable."
The real question is would Verizon Wireless want Sprint? Most say no but what do you think, should they be? Here is what Verizon Wireless CEO had to say about Sprint.
"We're not interested in Sprint. We don't need them," Verizon Wireless CEO Daniel Mead told Reuters at the CTIA Conference.
Even with that being said some argue that it would be a great idea. If Verizon bought Sprint the deal would give Verizon 50 million more subscribers. That's just enough to skip AT&T/T-Mobile and be back on top. Sprint is also sitting on a mountain of wireless spectrum that could help them more if they would use it or take advantage of it.
Sprint could also surprise us and start buying smaller companies such as US Cellular. Did you ever think of that? Let us know what you think in the comment box below. Discuss!
Thanks itster!
Source: CNNMoney