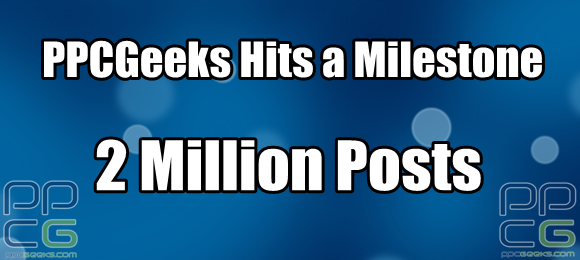 PPCGeeks has been around for about 5 years and has gone through many changes over those years. We've had several staff members come and go and have gone through quite a few style changes on the forums.
Our userbase has continuously grown with the releases of new smartphones, and now we have officially reached a new milestone. In our forums, we now have over 2 million posts by our users. This milestone puts us in an elite group of forums and while site traffic has its ups and downs, our beloved site isn't going anywhere anytime soon thanks to our great users!
PPCGeeks appreciates every current or retired site admin, moderator, super moderator, news writer and member for everything they have done to help the forums be where they are today. This is a huge celebration and we're honored to be where we stand. Members, pat yourself on the back for your accomplishments. You've done a great job!
Be sure to hop into our forums and enjoy the celebration in the thread already started. Click here!
Thanks to everyone who contributed!