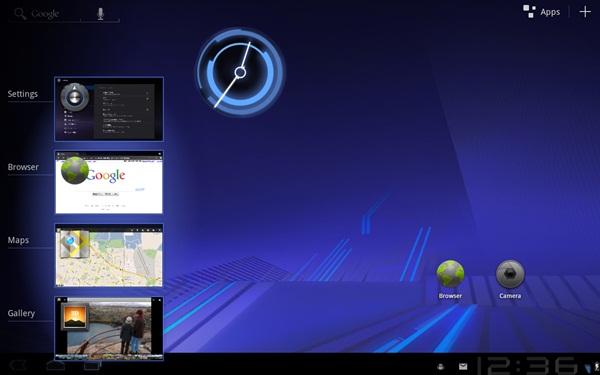 Details have emerged giving you specific new features of Google's Android 3.0 and they sound mighty fancy. We all know that Android 3.0 (aka Honeycomb) is the next major release of the Android platform and is optimized for tablet devices. There have been rumors that Honeycomb may be available for smartphones but there is no discussion of that in these details.
Version 3.0 has received a load of enhancements for users and developers. Take a look at the introduction video and the features below.
New User Features
A new virtual and "holographic" UI optimized for larger screens
Refined multitasking, rich notifications, home screen customization & more widgets
System Bar, for global status and notifications
Action Bar for application control
Five customizable Home screens
Recent Apps for easy visual multitasking
Redesigned keyboard (reshaped, repositioned and new keys have been added)
Improved text selection (copy and paste)
New connectivity options (Built-in support for Media/Photo Transfer Protocol)
Updated set of standard apps (browser, camera, contacts and email)
New Developer Features
New UI Framework for creating great tablet apps

Redesigned UI widgets
Persistent Action Bar
Richer notifications, multi-select, clipboard, and drag-and-drop
High-performance 2D and 3D graphics
Support for multi-core processor architectures
Rich multimedia and connectivity (HTTP Live streaming, Pluggable DRM framework, Digital media file transfer and More types of connectivity)
Fully compatible with existing apps for earlier versions of Android
What do you think? Let us know your thoughts in the comment boxes below.
Source: Androinica & AD