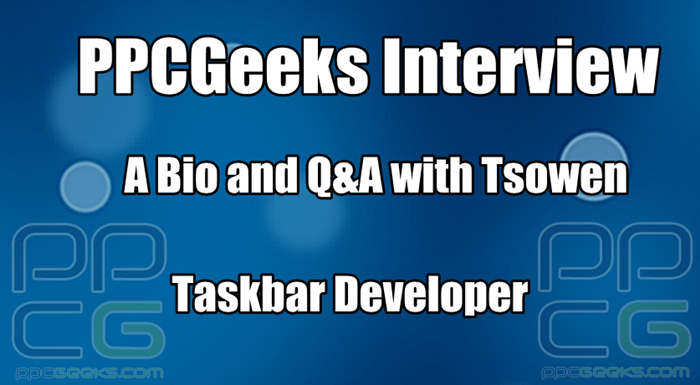 Welcome to another edition of the PPCGeek Spotlight where we get enlightening perspectives and great insight from well known and successful community members and leaders. In this edition we highlight a very widely known, well respected and talented taskbar creator, retired staff member and the one who made taskbars so popular, starting all right here at PPCGeeks.com, Tsowen.
Tsowen has been a member of our site for a long time. He has gone from a regular forum lurker, to VIP, to news writer and then to Administrator, he is now retired. He is very popular here at PPCGeeks and most of you may already know of his impressive skills working with taskbars beginning with Windows Mobile and now he's worked his way to Android. Take a few minutes to learn more about Tsowen and taskbar development.
Here's a short bio with Tsowen followed by a Q&A:
1 ) What brought you to the site?
I bought my first Sprint PPC-6700 aka HTC Apache and the Sprint Rep told me about PPCGeeks, never looked back since then.
2 ) What background experience did you have that got you to where you are today?
I have a BA in Graphic Design and also several Industry Certifications in various Information Technology/Programming.
3 ) What is your background in graphic arts?
I have a BA in Graphic Design and am currently working towards my Masters.
4 ) Is there anyone here that has helped you along the way? We know Gadgetfreak and yourself have worked together when it comes to taskbars. He's now actually started doing taskbars himself. Has Gadgetfreak contributed to your knowledge or are you both helping each other along the way at times? Has anyone else contributed to your work?
So many people have helped along the way from the original crew at XDA such as FInixNOver and Darklord69, to some of our users such as Chef Ben, Brock1909, opuscroakus, Trey Beno, HTCLeener, darren.wlsn1, Mr. X and MightyMike and of course my right hand man Gadgetfreak and mainly all the users who followed my threads and left feedback. (Sorry if I left anyone out, so many people have helped out so much.)
5 ) Do you have to know about ROM development to create a taskbar or is it all graphic work?
When it comes to taskbars its a little different than making a ROM. You are mainly editing .dll (dynamic link library) files, swapping out the old icons and uploading them back to your phone or putting them into a cab file that will install. There is a little bit more than that involved but basically that's it in a nutshell.
6 ) Do you have to know a lot about Photoshop or are there other programs you can use to make taskbars?
Photoshop is one of the preferred by many graphic artist. There are some freeware versions such as GIMP that work well too.
7 ) How hard is it to transition from WM to Android taskbar making?
One is a Windows version where Android is based upon a modified version of the Linux kernel, so you have to have an understanding of both operating systems.
8 ) Have you considered continuing to make Windows Mobile taskbars as well as maybe even Windows Phone 7?
Yes I plan to continue to make both Windows and Android taskbars and will hopefully make a Windows Phone 7 one as well.
9 ) How long does it take to make a good taskbar set?
It depends if your're using all custom icons or converting an existing taskbar from GSM to CDMA. To make a taskbar from scratch can take a month or longer to make depending on the quality of the icons being created.
10 ) Do different resolution devices have any effect on taskbars?
Yes we found this out when we first started making taskbars, there was quite a bit difference from VGA and QVGA such as the size of the icons.
11 ) Have you ever considered making ROMs or just taskbars?
I thought about it but stuck to taskbars since there are already tons of talented Chefs out there already.
12 ) What are your plans currently for the next Android taskbar?
I am currently designing a brand new taskbar for the Android phone that will have all new custom icons.
13 ) How many Android taskbars have you currently come up with? Are there more than one?
Some of my taskbars have been converted by others for Andoid. I am currently working my on my first release.
14 ) Last but not least, do you get great feedback from the work you have done? Here on the site the users sure seem to appreciate you and the help and support you give back to them.
I always get great feedback from our users on the site. The users and the site are what made my taskbars so famous. Users here test my taskbars and provide excellent feedback on bugs or things not working right.
So there you have it geeks. This is the end of the Q&A with PPCGeeks member Tsowen! We hope you enjoyed getting to know him as well as learning more about how he does his work.  Please leave your comments and feedback in the comment box below. For now, keep your eyes open for our next PPCG spotlight where we will gain more insight from other well respected community members.