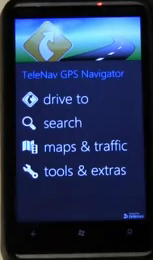 The complaints about only being able to use Bing Maps and not getting turn-by-turn directions on Windows Phone 7 can finally come to an end. Well, for those who don't mind paying for it. Thanks to TeleNav you can now purchase their Windows Phone 7 application and be provided turn by turn, voice guided navigation for $10 a month.
For now, this is the only solution for turn-by-turn and voice guided GPS navigation on Windows Phone 7. Hopefully one day Google Maps will be available for free. Until then, this software seems to be very stable and accurate for this mobile platform, just as it is for other platforms. For those of you who need up-to-date and accurate navigation the $10.00 monthly fee may be worth it. Check out the video ZDNet shared below with TeleNav GPS Navigator in action on their own HTC HD7.
Source: ZDNet
Sponsor Announcement
Before I let you go, are you already a Windows Phone 7 consumer and want to learn more about their new devices? If so, click here. Also, if you are a Windows Phone developer you should definitely check this out by clicking here.
One last thing! AT&T has an annual developer summit where you have access to 30+ hours of technical and marketing content presented by AT&T Mobility managers, architects and device manufacturers. Hear 2011 announcements and analysis about how you can reach AT&T's 90+ million customers. They have jam-packed the day for you so you can head out to CES the next morning!! Be sure to click here for details.