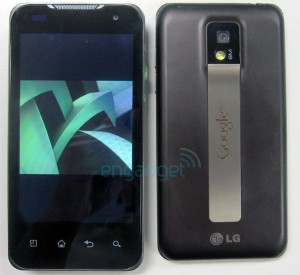 Thanks to PPCGeek Member gTen for pointing this out to us from Engadget. It looks like LG is definitely on the prowl to WOW their customers. Although they only have few Android devices to choose from currently, don't be surprised when you start seeing more released, very soon.
According to Engadget, LG stated a little while back that they are pouring some mega cash on R&D and marketing to play catch up, and they plan to release a several smart phones by the end of the year, projecting sales of 5 million units in that time. The end of the year is near so I can imagine this is just the beginning and those plans will stretch into next year.
What we do know about this device so far is that is has an 8 megapixel camera, a front facing camera, the operating system is powered by Google OS – Android (not sure which version yet), a 1080p video recorder as well as a 4″ screen size. Those are some nice specs! We can't tell just yet if this will be a CDMA or GSM device, but some of us hope that it will be for both. Wouldn't that be nice?
Release date is said to be early next year with this device being the very first dual-core Android handset including NVIDIA's Tegra 2 into this line of devices. Engadgets tipster tells them the phone is currently codenamed Star internally although that is subject to change as most of the names do once they are actually released.
What do you think about this one? Do you know anymore information than we have listed? Let us know if you do and we will be glad to update the article. When we find more information we will let you know. For now, enjoy the specs and picture that we have provided.
Source: Engadget