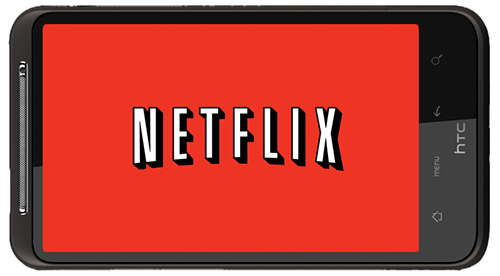 Straight from the Netflix blog, Greg Peters from Netflix product development, recently announced the availability of Netflix on Windows Phone 7 devices as well as the iPhone. While those events were taking place several Android users were feeling left out, including myself. We all wanted to know why we didn't get it and when we would, if ever. Thankfully, it's now on the way to your Android mobile device in early 2011.
Greg stated that "We regard Android as an exciting technology that drives a range of great devices that our members could use to instantly watch TV shows and movies from Netflix. We are eager to launch on these devices and are disappointed that we haven't been able to do so already. The hurdle has been the lack of a generic and complete platform security and content protection mechanism available for Android. The same security issues that have led to piracy concerns on the Android platform have made it difficult for us to secure a common Digital Rights Management (DRM) system on these devices. Setting aside the debate around the value of content protection and DRM, they are requirements we must fulfill in order to obtain content from major studios for our subscribers to enjoy."
I know a handful of users here who have been patiently waiting for this day. Hopefully we will get it as soon as possible and be able to stream movies all day long. My favorite time of day to watch them is while I'm bored at work, and yes I watch them on my iPhone. There's nothing better in my opinion than turning on my favorite movie to past time. Thanks Netflix and we can't wait to enjoy movies on our Android phones.