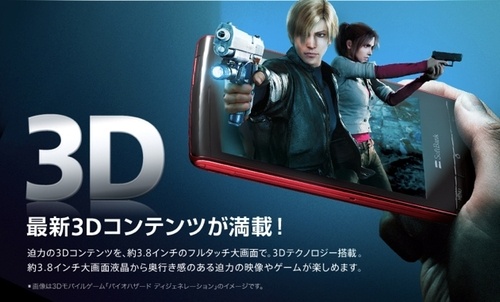 According to Androidheadlines, Japanese carrier Softbank will be launching a couple of phones that will feature glasses-free 3D displays. Isn't that just more awesome news for the day? Each model will have a 1 GHz Snapdragon chip, and one of them (the 003SH) will have a 9.6 MP camera, while the other (the 005SH) will have an 8 MP camera. Rumor is that the first phone will be released in December and the second one in late February, next year. Both phones are said to have Android 2.2 (Froyo). With a camera like that I sure hope these make it to the US!
You may now ask why in the world do I need or want a 3D phone? Well like some of us who are getting the 3d TV's at home, we may also be interested in a phone of the same sort. Maybe you would just get one for the kids, who knows?
Unlike the 3D TV's being sold, this phone will not require 3D glasses while watching movies, playing games or ever for that matter. Of course we all know that normally it takes a while for things to happen in the US like they do in Japan. When we hear more information we will let you know!
Source: Androidheadlines