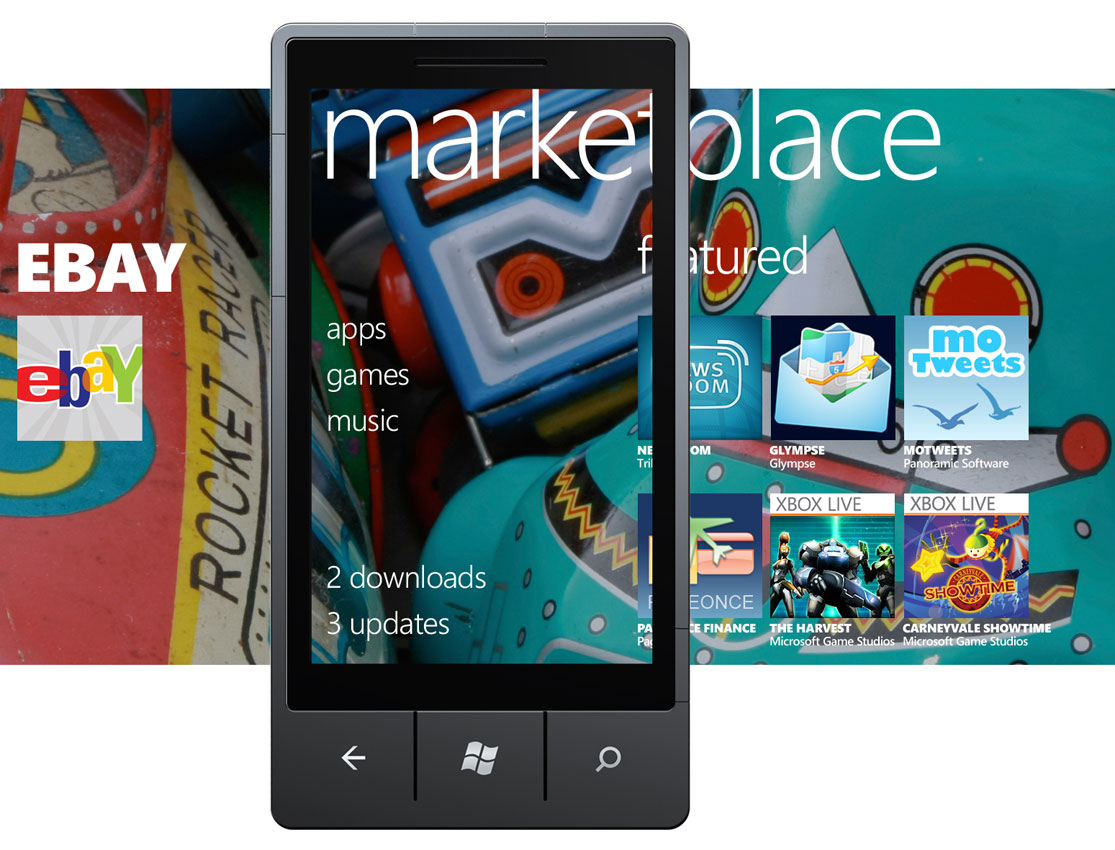 We have been browsing around the web for a while now trying to find the greatest list of WP7 apps and haven't been successful just yet. What we decided to do is combine the most talked about apps into one article and share them with our members. Keep in mind we are sharing these with great hopes that the current apps will be available on the CDMA WP7 devices too. As we find more, we will add more to this article.
Experience Twitter from your Windows Phone 7 device with MoTweets, the Premiere Twitter App. With all of the features you would imagine from a great twitter application, MoTweets allows you to tweet the people you follow on the go, upload photos from your device camera and post your location for your followers to find you.
Xbox LIVE on Windows Phone 7 unveils a world of games, friends, and fun for Windows Phone 7 users. The Games hub combines many popular Xbox LIVE gaming and community features. Use your Xbox LIVE profile to access your avatar, gamerscore, and even your achievements. Share scores and earn recognition for your accomplishments. You can also earn achievements on Windows Phone that will add to your Xbox LIVE gamerscore.
Glympse is a mobile service that allows GPS-enabled mobile phone users to share their location with anyone they choose for a set amount of time. With Glympse, you are in complete control. You choose WHO you want to see your location, WHEN and for HOW LONG. On the receiving side, anyone with an data enabled device or with email access can receive a Glympse and view your whereabouts turn-by-turn. The recipient receives an SMS or email message with a URL that can then be clicked to open browser with a map, showing the sender's precise location.
What is a wiki? It's a website that allows multiple users to create, modify and organize web page content in a collaborative manner. Wiki's are used for a large variety of tasks, from personal note-taking to collaborating online, creating an internal knowledge base, assembling an online community, and even managing traditional websites. Wiki's are now available on WP7 devices.
Handyscan is a Windows Phone 7 personal document scanner. With this application you are able to use the device's camera to scan physical documents. Then you are able to send them to your own inbox or to any email recipient, either in JPG or PDF format. You have the availability to scan multiple pages, align/rotate the resulted scan or even crop scans if needed. Traditional scanners are big, tough and sometimes hard to use. With Windows Phone 7 Handyscan you can take advantage of its high resolution camera to scan easily, quickly and effectively. The application is still under inspection and will be available soon in the marketplace.
Springy for WP7 gives people across the globe a new way to connect and express themselves amongst each other. It is as simple as starting a conversation – you ask a question of a friend or someone you want to know more about, and they answer and vice versa. It's a fun and easy way to connect with people you know or people you want to know more about. This application is another version of formspring for WP7 which you may be already familiar with.
Headliner is a tool for finding and viewing streams of online data through RSS feeds which is very easy to use. Communicating with a large variety of web services, headliner allows users to search for a topic of interest, browse feeds related to the topic and save them into a subscription list. You can also read individual articles in two different visual modes (the original article, right in a web browser or a clean image-and-text-only version) and even post their finds through email, SMS, or Twitter.
My Rss Reader (aka Feed Reader)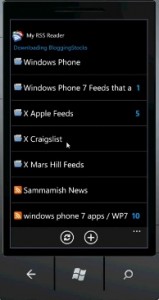 Feeds in Feed Reader are downloadable which will enable users to perform offline reading. Feed items can be twittered, sent to Instapaper, saved, read later or emailed. You can also view the live feed to see items you may have already marked as read. There is also support to "favorite" an item or share an item with Google Reader. Google Reader Starred, Shared & Notes are available but can be hidden from the settings menu if you chose to do so.
Google Voice brings to your mobile: voicemail transcriptions, the ability to call and text with your Voice number, cheap international dialing and more. The Windows Phone 7 app store already is accepting Google Voice, where an unofficial client has appeared. The app is called "GoVoice" which will provide Google Voice functionality for WP7 that costs $2.99. If we had to guess, Google is working on more versions that will be free for you to chose from.
There are a few music apps currently available in the WP7 marketplace that we know of. Pandora hasn't shown up just yet. We are still waiting for them to release their own WP7 music app. The ones we do know about are MusixMatch Lyrics which lets you download lyrics and recognizes music you are listening to. The second we know of is Slacker radio which most of us are familiar with. The third is iHeart Radio which gives you access to several streamed radio stations in several different cities as if it were your radio in the car.
Also known as Freda, the WP7 Ebook Reader will be called Wattpad. Wattpad is an e-book community where writers can publish and share their works. The content is user-generated, allowing anyone to contribute to the library. Some other features include adding notes, searching for keywords and more.
Touring Machine is an innovative platform developed to offer a wonderful sightseeing experience to adults and children right from your phone. It is currently available in these three editions: Mobile edition, Web edition and Augmented Reality edition. How it works is the user selects one of the available tours and the application then displays a list of all the nearby exhibits sorted from the closest to the most far. As the user moves among the exhibits, this list is automatically rearranged. This is a great way to tour places you may never actually get to go in reality.
Sources: Panoramicsoft, Xbox, Glympse, openpedia, 1800pocketpc, handyscan, formspring, jobsblog, google, pocketnow & wmpoweruser
More applications will be added as they are released.