Zagg, the company behind the legendary Invisible Shields, has released their latest foray into the world of device protection. The Zagg Leather Skins line is very much like the Invisible Shield line in that it provides your phone the highest degree of protection while adding the minimum possible bulk and looking crazy awesome.
The Leather Skins are definitely worthy of Zagg's name (in case you didn't know, Zagg stands for "Zealous about Great Gadgets") and add a little extra flair to that device you carry around with you everywhere you go.  They come in this nice little envelope: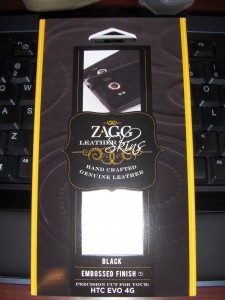 The EVO skin comes in two colors: Black and Tan as well as two different styles: Embossed and Plain. Mine is the black embossed one. Let's take a look, shall we?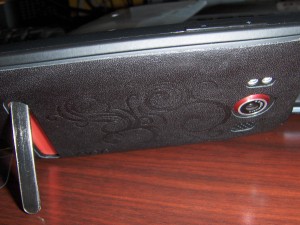 Don't be fooled by your instincts; that CAN BE and IS real leather there. Also, it's hand crafted. That's pretty neat. More pictures!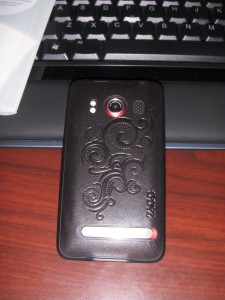 The case feels really nice in your hand. It is leather, after all. It also stays attached surprisingly well for a dry application adhesive (if you've ever applied an Invisible Shield, you know all about wet application adhesives and how well they hold) and when you put it on there, that thing is ON THERE. The leather conforms to the curves and looks sex-tastic like it came from the factory that way.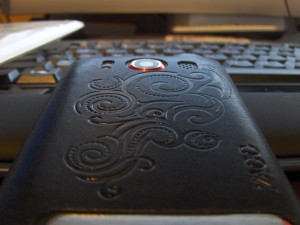 The embossing is also a very nice and unique touch. It works really well with the overall look of the skin.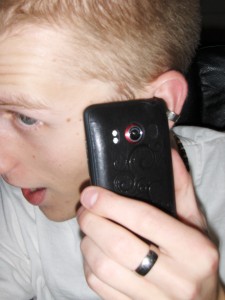 You'll notice in the above picture that I look at LEAST 30% cooler when answering my phone at the restaurant in the middle of our date. That's quite a significant improvement! You can pick up your very own Zagg Leather Skin from Zagg's website. You can also get the combo Leather Skin/Screen Shield for a bit of a discount if you, for some reason, aren't already using one of the two. If I were you, I'd get one. But I'm not you. I'm me, and I already have one.