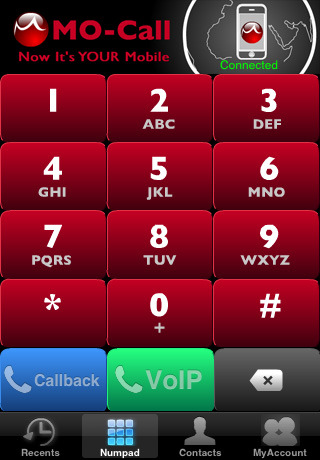 Windows Mobile developers are continuing to find ways to save money on global phone calls and text messaging rates. They haven't forgotten about Windows devices and their users' needs, especially the ones with friends and family all over the world. That's why developers have created this new application, very similar to Skype, to give you peace of mind while you don't want to end that long conversation with your friend in Puerto Rico or Iceland.
MO-Call is a VoIP application for your mobile phone that currently supports over 2,025 phone models. What makes it different from many of the other VoIP applications is that it allows calls anywhere you have GSM or CDMA coverage for as low as 1¢ a minute.. This application does support Wi-Fi, which gives you a way to connect for FREE. MO-Calls made over Wi-Fi to other connected MO-Callers are completely free. While Mo-Call runs in the background, users can save up to 90% on international calls. Download the application free and get instant savings on local and international calls.
Download (link here.)
Calling Rates (link here)
Check your current provider for possible additional charges while using this application.