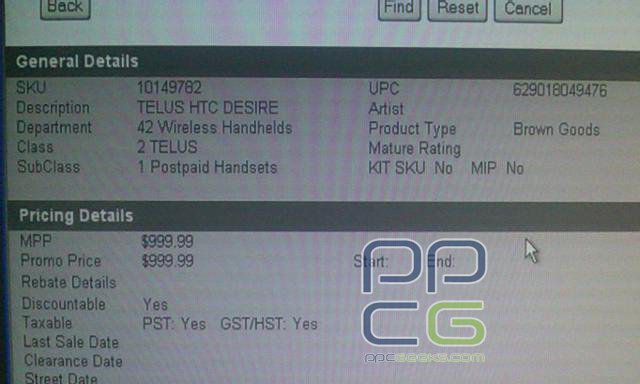 Update: The screenshot is of Best Buy's inventory system, not Telus'. Sorry about that!
An anonymous tipster has sent us this screenshot showing the HTC Desire is now showing up in the Telus Best Buy inventory system. The price hasn't been set yet (thus showing up as $999). There's also been no official announcement of a release date, but it should be later this month or August.
For those of you that don't know, the HTC Desire is very similar to the Google Nexus One, except it has an optical trackpad instead of the trackball and SenseUI. Other than that, the specs are nearly identical.
Thanks to Kelly @ BGR for pointing this out. MobileSyrup.com has found what appears to be the pricing for the HTC Desire embedded in the source code on the Telus HTC Desire page. This is by no means official, but it sounds pretty accurate. The pricing shows 1-Year term: $499.95; 2-year term $399.95 and the 3-year term: $299.95.