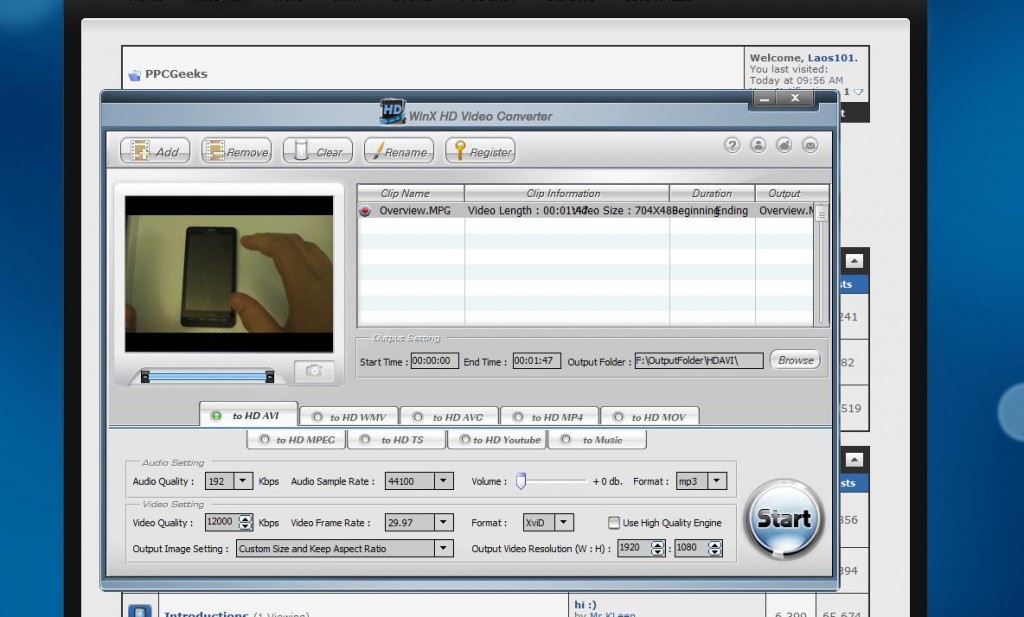 Don't Call Him Crazy, but our own News Writer and Moderator [sammich] was handed a copy of WinX HD Video Conversion Software from the company, and he took a in depth look at it to see if it was some knock-off chinese copymonster. We beg to differ!
Read on for the full review AND a chance to win ONE OF TWENTY (20!) COPIES OF WINX HD VIDEO CONVERTER!
WinX HD Video Converter is a relatively new format conversion tool developed by Digiarty Software. The manufacturer's site claims support for iPad, iPod, iPhone, Apple TV, PS3, PSP, Xbox, Zune, PDA, Blackberry, Nokia, Android, Zen, and other devices. The supported formats range from the standard WMV and AVI videos, to HD M2TS and MKV. Resolutions range from the standard small formats at 360p to the full HD Experience.
Installation was simple as the program uses your typical installation executable.. After installation was completed, I was prompted to open the program and immediately begin converting files. The program's main screen initially seemed quite busy, but I had no trouble finding the "Add File" option on top and to tinker with the features and options in between the content. The video I am testing is a 720p, 49MB AVI video (3 minutes and 19 seconds long, 24 FPS, 44.1KHz Audio @ 121.9Kbps)
After adding the video to the queue, I chose from the variety of output options. For this test, I decided to convert the video for smooth playback on my HTC Touch Pro 2. Under Portable PDA, I was met with even more options for output quality. As many of you know, the Touch Pro 2 suffers from horrible video playback quality, so I decided to optimize the output even more. I selected the "640×480 MPEG4 Good Quality" profile and began customizing. I set the video quality to 1200Kbps, and began the conversion.
The conversion process took 1 minute and 26 seconds, which perhaps leads us to believe it takes advantage of the processing power of our computers,  taking almost half as long to convert than the actual length of the video (For HD, I might add.) The output file size was also 23MB, which is less than half of the original 49MB. But how does it look on my phone?
I quickly transferred the video to my phone and played it using the standard HTC media player. Once the video began playing, I noticed a very slight color distortion which vanished within seconds. The video then continued to play smoothly with very little noticeable compression. During the fast-moving scenes, I noticed a split-second of distortion before the video balanced itself out, at which point the playback was smooth again. despite these very minor quirks, it gets the job done quickly, efficiently, and doesn't take took big a bite out of my memory card.
Digiarty seems to have done an excellent job with WinX HD Video converter. With significant file-size reduction and very little quality loss, mobile device users can benefit from using this program to convert and down-scale their favorite videos to save size and increase playback speed. One of the main points that sets this program apart from others is that you no longer need to guess-and-check when it comes to output options. I would choose WinX HD Converter over other software because of its straight-forward conversion options and extensive compatibility.
And Now, the Contest!
To win one of the TWENTY Keys, donated to us from Digiarty, simply write a comment below, and we'll add you to the random selection queue. The first Twenty numbers selected AT RANDOM will receive a free WinX HD Converter Key (Available Here) which retails for $49.99 (It's currently on sale though for only $39.99! Feel free to look into it and pick it up here if you're not one of our lucky winners!)
As usual, contests are open to users of the site who register and post a comment. Users cannot be site staff and you may only win once!
Last but not least, Good Luck!