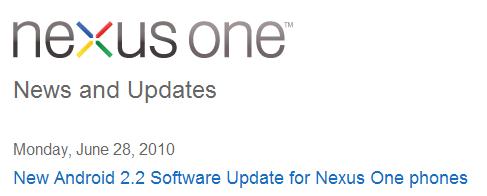 Last week we reported on the rumored "official" Froyo update for the Nexus One, with a version of FRF83. Last night, Google officially announced the Froyo update, which they say will be gradually pushed to phones this week. People are reporting the update version is FRF85B and is about a 500Kb update from FRF83. Last Thursday, Google also released the source code for Froyo, which also made everyone believe FRF83 was the official version.
"In order to access the update, you will receive a message on your phone's notification bar. Just download the update, wait for it to install, and you should be all set. This update will be rolled out gradually to phones – and most users will receive the notification by the end of the week . We hope you enjoy these new features."
You can find the Android 2.2 highlights here.
Even users of custom ROMs are reporting getting the update notification. For obvious reasons, if you're using a custom ROM, wait for that chef to release an update, otherwise you'll probably lose your root.