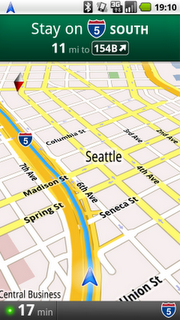 Google has announced a beta version of its new Google Maps Navigation program, that will provide voice-guided turn-by-turn directions on your Android 2.0 device.
"This new feature comes with everything you'd expect to find in a GPS navigation system, like 3D views, turn-by-turn voice guidance and automatic rerouting. But unlike most navigation systems, Google Maps Navigation was built from the ground up to take advantage of your phone's Internet connection."
Features include:
-Most recent maps (and business listings) by downloading them as you drive
-Search in "plain" English by using the simplicity of Google search
-Search by voice
-Traffic view by downloading live traffic information while you drive
-Search along route
-Satellite view
-Street view
The first phone it will be available on is the Droid from Verizon.
So, will it come to other platforms such as Windows Mobile? Or is this another way to pull people into Android?
Source: Google Blog