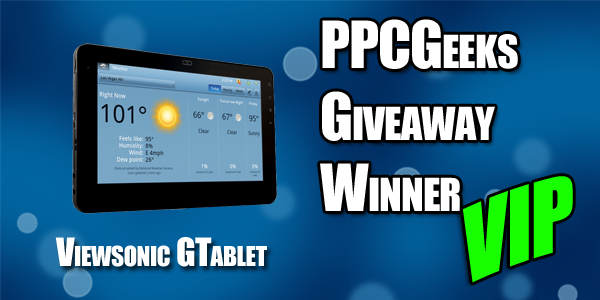 PERASITE!
To our non-VIPS left in the dark, sorry!
As you all know, we've been giving away a myriad of great stuff for the past month and a half as a celebration to our five years as a site. We already gave one of our tablets to AZTECHKA who won our contest earlier this month – so we decided to give the second one to an extra special group of people here at PPCGeeks, our VIPS.
For those of you who don't know, we offer a special section of the site where our VIPS – or long-time dedicated members of our community – get to hang out and chat amongst themselves. Every now and then we run giveaways for these VIPs / Very Important Geeks and we decided to offer all our  VIPS a chance to win a gTablet. We randomly gave it to Perasite, using a thread that all the VIPs could enter in, and a random number generator. They were listed based upon who entered the thread first and number seven (minus staff and duplicates) was Mr. Perasite!
The results are below as proof –  thanks again to everyone who participated in our awesome giveaways. Expect many more awesome things soon here at PPCGeeks! Be sure to also contact us if you have any epic ideas or suggestions for us to look into!