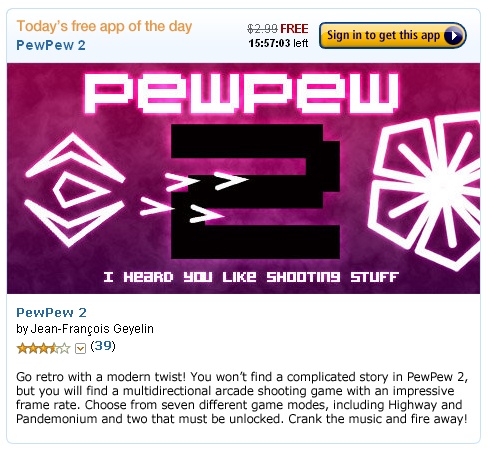 Nearly two years ago, the original PewPew was released during the height of dual-stick space shooter popularity. PewPew has since then managed to gain some popularity for its graphics, responsive controls, frantic game modes and the reasonable price tag of free on the first version. Now PewPew 2 is available for $1.99 but if you grab it today in the Amazon App Store you can get it for free also.
Pew Pew 2 expands many features and modes that made the original so successful while also adding a challenging single player campaign, enhanced graphical effects, and a couple of other neat surprises. Take a look at the video below to see if you may be interested.
Will you give it a shot? We aren't saying this is an HD 3D game folks, just something fun and popular to other gamers so we are here to share it with you. Let us know what you think. Are you one of the millions who have already installed this game? Leave your comments in the box below.