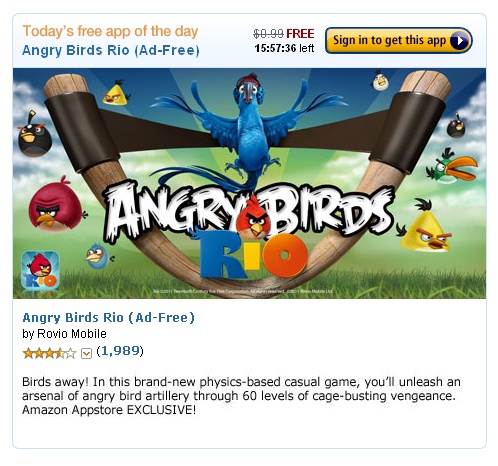 Today only you can grab you a copy of the Angry Birds RIO (Ad-free) game from Amazon's App Store. We previously gave you an article announcing this game found here and then a video our news writer, oridus, made is found here. We received great feedback from the users here, in the forums and on our Facebook page so were sure this just may excite those of you who had trouble getting it the first time.
By now you all should know what Angry Birds is but some of you may be asking what's the difference between that and Angry Birds Rio. The answer is simple, the Rio version is based on the movie Rio. The birds are kidnapped and taken to the magical city of Rio, where they eventually escape their captors and set out to to save their friends, Blu and Jewel – two rare macaws and the stars of the Fox motion picture, Rio.  Angry Birds Rio pairs the physics-based gameplay of the original game with unique twists based on the highly-anticipated film.
We can't guarantee that the ad-free part will stick forever. Some users seem to think it's only for a limited time. I do not see that in the ad so I would say for now, I disagree. It seems Amazon.com has this ad-free version exclusive to them so why would they take it away or have it for a short time only?
Does this sound interesting? If you haven't already been playing it, when you get time get on it! I've become addicted thanks to Amazon's App Store. This is one fun game. Enjoy gaming!
Source: Amazon.com