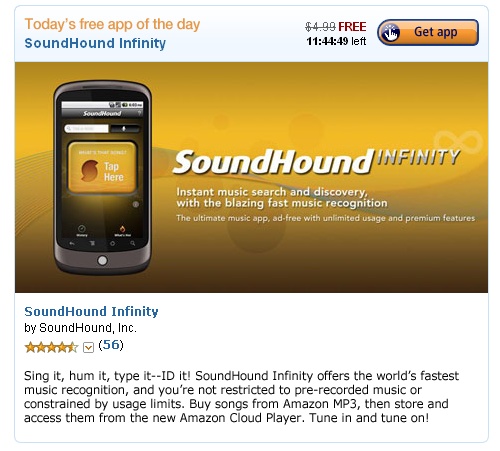 Geeks we are here to spread the word for the Amazon App Store that Android devices can get one free application per day, if you haven't already noticed. We will do our best to keep you up to date each day and let you know what's available.
Today you only have about 11 more hours to take advantage of this great deal. Soundhound Infinity is currently being offered for free at the Amazon App Store for Android. If you don't grab it today you will be paying $4.99 for it so what are you waiting for?
Not sure what Soundhound even is? Let me explain. This has been very popular for Iphone users and now Android users as well. Soundhound is known as a song identification application that identifies unknown songs. There is more to it than that though. It also plays back your library, shows you the artist information and the lyrics as well as working in the background so you can multi-task.
This application has a few more features than the one similar called Shazam, so give it a shot. It's free, how can you not? If you use it already, how much do you like it? If not, let us know after you try it what you think!