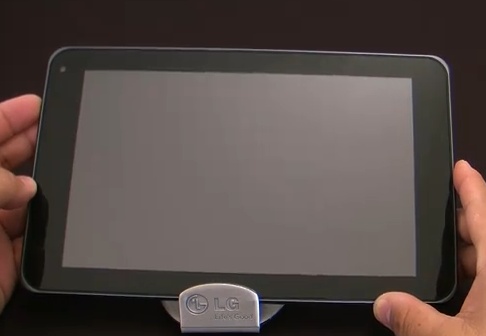 LG fans now is the time to take a look at the video LG finally released of the LG-Slate. This is a quick video but it does give you the details you want to know. Now you don't have to wonder which specifications are right or wrong because most of them are right here in the video.
Take a look at the video below:
Did you catch all of those features? If not, we will list some of them for you below.
2MP FF (Front-facing) Camera
3D rear stereoscopic camera with 3D/1080p video capture, Digital Zoom and LED Flash
8.9″ HD capacitive touchscreen with a 3D display
HDMI output
32GB internal memory
Micro-USB port
Connectors for a docking station
3.5″ headphone jack
Tegra 2 dual-core processor
Adobe Flash 10.1

So, now that you've seen the video and heard the official specifications we want to know what you think. Official pricing hasn't been announced just yet. For now, let us know in the comments box below. We hope you enjoyed the video!

Source: LG & Androinica
© 2011, GirlGoneGeek. All rights reserved.