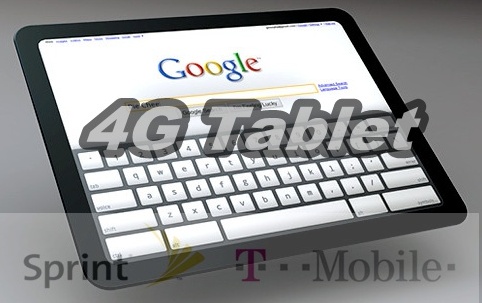 According to the Wall Street Journal and their recent research, Sprint and T-Mobile will have their own 4G, high speed tablets sometime in the next year. No dates were discussed for either carrier's release dates but with the comments recorded, most seem to think this is not just a rumor.
Check out the WSJ news video here!
What did T-Mobile have to say about it?
"T-Mobile will continue to be at the forefront of wireless innovation, delivering an aggressive 4G product lineup in 2011, including 4G tablets," said T-Mobile spokesman Tom Harlin.
What makes us almost certain Sprint will have them as well? Forbes earlier reported on Sprint's plans to bring out a 4G tablet. Of course, for Sprint a 4G tablet would round out their growing collection of 4G devices.
We all know the tablet industry has boomed since day one and they don't seem to be stopping production. Will there ever be enough to choose from? The production companies don't seem to think so do they? We know that a tablet with faster speeds would probably out sale the current tablets on the market so maybe they will quit producing so many 3G tablets now? What do you think?
Source: Wallstreetjournal