GCzII a Geocaching app for Windows Mobile from NICQUE Freeware has been updated to Ver 0.2.35.41 to fix:
1) "Cache not Found" issue fixed.
2) "Internet Connection Failed" issue fixed. (In case of proxy uname/passwd required)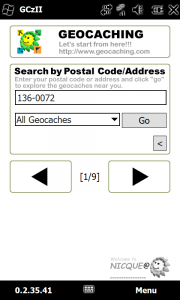 GCz is all-in-one application for Geocaching.
– Seek cache by
"Addr/Postal/GC Code/GPS/etc…".
– Cache list and detail infomation.
(Title/Owner/Description/Hint/Log/Map/etc…)
– Post cache log.
– Pickup and Drop TB/GC.
– GPS Monitor.
– Mobile GoogleMap.
– AppToDate
Gech (also referred to as just "Tom") from XDA-Developers has just updated this application to resolve issues that were caused by the April update to Http://www.geocaching.com. Site changes made gathering data about a cache with this app cause a "cache not found" error. The Update was rolled out Sunday April the 11th 2010 after the error was brought to his attention earlier the previous week.
Although the changes to the Geocaching home site may not have been done to thwart this application directly, there is speculation this is so, because it's not an "official" Geocaching.com authorized application. This application is thought to be in breach of there terms of use agreement according to Groundspeak, INC.  A short explanation of the breach specifically, is this app is considered to "scrape" information from the website. This means automatically connecting and downloading cache information to the user. This is not entirely true. Although this application does download cache information and organize it for you it does not automatically do so you have to manually initiate the process. This is why the app seems to be in a gray area right now, and is not authorized as an official app nor banned from the Groundspeak forums for topic of chat.  back to the speculation of why it's not authorized, as one user has stated on XDA-Developers is because it provides information and layouts in par with the abilities of a GPX waypoint and information exchange file, this GPX file/Information is usually only available for download from the site to Premium members of the Groundspeak network.  This is what raises the speculation that they have not authorized the app as it thwarts the sites requirement to be a premium member to download all the cache information in one easy step.  While this is an understandable concern, users of this application do hope that Groundspeak, INC and NICQUE Freeware can come to some sort of agreement that will allow the app to be official, giving the developer access to the sites API and thus making the app less prone to breaking when site updates occur.
I myself am a GroundSpeak Premium member, so I've paid my dues. I also really like this app because it's the best one, if not the only fully loaded and functional Geocaching application out there for Windows Mobile. So it's a real bummer when I'm out on the road and the app breaks for me. I personally hope that Tom, and GroundSpeak can come to some sort of agreement allowing Tom to use the Groundspeak and Geocaching logos and access to their API.
Download found Here
Tom's Personal Blog (in Japanese) Here
XDA-Developers GCzII Support Thread Here