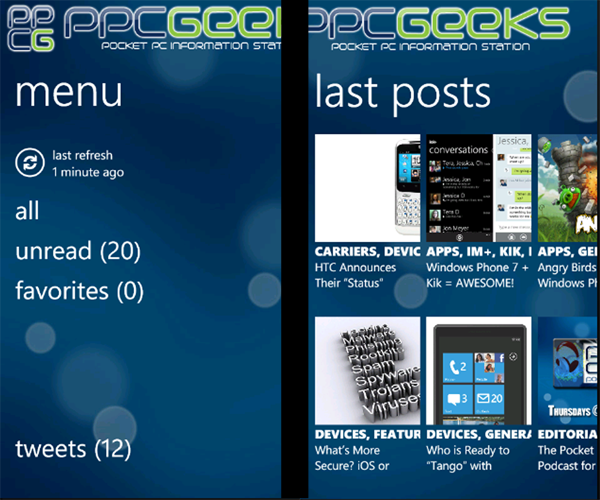 Our first WP7 app is the PPCGeeks News App that will let you follow mobile/smartphone news from our homepage, link to our site, Twitter, and Facebook pages. You can read full articles from the app too! You cannot comment on articles, but you can tag them as favorites. The app just pulls from our RSS feeds, so its read-only. If you want to browse our forums from WP7, you can always use Board Express Pro or one of our mobile styles.
The PPCGeeks News app is direct, easy to digest, Metro-UI stylized, and FREE. Using the application, you can:
– Access our RSS feed to the news section of PPCGeeks.com and check up on updates, and news in the world of Windows Phone 7, Android, iPhone, and more. No more mobile wordpress for YOU!
– Access our articles with a clean, easy to use, MetroUI-oriented style complete with the PPCGeeks feel of colors, and sporting the powerful "Follow my Feed" Technology – it's the best way to access our site for the WP7 User!
– Read FULL articles from our homepage, we aren't the New York Times – no clippets or snippet heres!
– Always have access and updates on our site's updates and plans, as long as you have your phone and an internet connection!
– And an easy way to Get your Geek On!
Download it through Zune here!
Screenshots (Click on them for the full image):