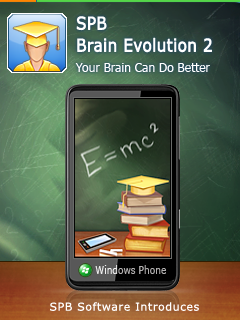 Thanks to our friends at SPB, we've just been sent their latest Press Release and it's quite interesting. What's so exciting? SPB Brain Evolution has just become the first SPB product for Windows Phone 7. You may currently remember them as a company that makes software for windows platforms, specializing in launchers for Windows Mobile and more.


Here's a glance at the Press Release:
SPB Software, a leading mobile software developer brings its SPB Brain Evolution game to Windows Phone 7. SPB Brain Evolution used to be the world's #1 bestselling Windows Mobile game for two years in a row. It has become extremely popular among Windows Mobile users. The demand for SPB Brain Evolution on the new Windows Phone 7 platform was great. And now it's finally launched.
SPB Brain Evolution is an intellectual mobile game that helps train the brain and improve memory, logic, arithmetic and puzzle-solving skills. It effectively combines the entertainment with the brain training. The variety of games in the set and the difficulty of some levels can capture the player's  attention for a long time and make the playing process exciting and challenging.
Now take a look at the awesome screenshots of the several games included! Just to name a few, and believe me, they are addicting: Arithmetics, Quadronica, Memorics, Sudoku and much more.
A Little About SPB Brain Evolution
As you can tell, the application features several mini-games, which have to be played in sequence: only if you achieve good results is the next one unlocked. The game has two modes: while the training mode prepares you for the battle the marking mode allows you to register your progress. The game also allows tracking the progress in your personal brain evolution which immediately becomes available in the form of a diagram or a score.
Availability:
SPB Brain Evolution is also available on iPhone, Maemo, Symbian and Windows Mobile platforms and it has already gained the popularity among the users. Now it comes to Windows Phone 7 to provide its users with a great game which is not only a real fun but is also an effective brain exerciser. Doesn't this excite you?
*** Main Features: ***
–  12 exercises (including Sudoku)
–  brain marking and training modes
–  scoring and progress tracking systems
–  multiple user profiles
–  cool facts knowledgebase
Pricing:
The SPB Brain Evolution for Windows Phone 7 is compatible with Windows Phone 7, and may be purchased for $4.99 USD from the Marketplace. SPB Brain Evolution is also available for smartphones running iPhone, Maemo, Symbian and Windows Mobile platforms.
*** About SPB Software (www.spb.com) ***
SPB is a leading brand in mobile software, standing for a unique line of popular consumer products and partnerships with the world's most innovative handset makers and wireless carriers. SPB's software solutions deliver richer smartphone experiences and enable subscribers to do more with their mobile data connections. SPB Software is the maker of the world's single number one bestselling mobile application – SPB Mobile Shell. For more information, please visit www.spb.com.
Thanks for the opportunity to release this news before anyone else! Be sure to check out our forums for the discussion on this new development! Also, get it from the marketplace here.