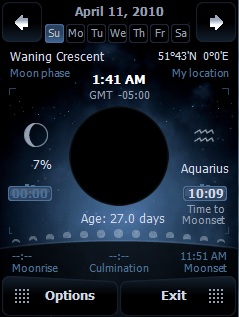 Have you watched any of the Twilight movies or read any of the books? The second book/movie in the series is 'New Moon'. Now why am I making a reference to this not-so-obscure phenomenon? An application named "Deluxe Moon" is the reason why. This application tracks the various phases of the moon, helpful to one of the main characters of the series, Jacob (who is a werewolf if you don't follow the series). Besides this useful feature, this application can also-
Provide visual picture of the moon phases and the percent of the illuminated area.
Full names of all moon phases.
Zodiac Sign the moon is in.
Current moon's age: how far along
the moon is in its full cycle.
Moonrise and moonset times
for your location.
Amount of time from moonrise
and to moonset.
Calculations for the current and other dates.
Network independence: you can work anywhere in the world without Internet or cellular connections.
Your current location determined by GPS or cellular network.
If you are interested in such a lunar application, then you can go here to download it. Oh, and the best part it is free! Wait, sorry, did I also mention that it is Windows Phone 7 ready? Yes, this is an example of what great visual-looking applications we can expect to be built off of Silverlight or XNA.
Source- Pocketnow.com