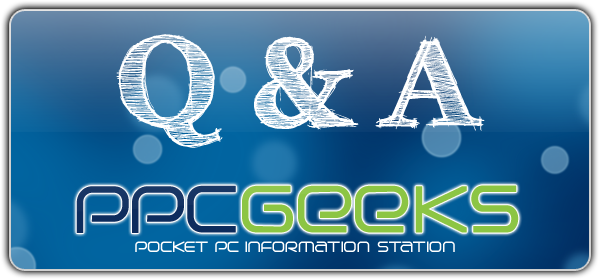 Well 'geekers, it's time to start this thing up.  There were some tough questions here but the team has spent some time to try to get some answers for you guys.  Take a look and see what you think.  Also remember to stay tuned for week 2 and some more upcoming interviews from developers!
Q:  Is there any insider or non-public info about a release date for WP7's mango? Last I heard was 3rd to 4th quarter of 2011?
A:  Everything we have seen on the internet and whispers near and far points towards an Octoberish release date.  It looks like MS is making a huge push to get it out this year in Q3 and no later than Q4 if possible.

Q:  I've searched evvvvery where for hours and days on in, but i cant seem to find a single app for windows mobile that can be considered a suitable replacment for the native built in Windows Mobile SMS application…So… why isn't there a single Windows Mobile alternative???


A:   There are alternatives to Arcsoft SMS, the most popular being Vito's SMS Chat.  WinMo is known for not having the best alternatives as far as SMS goes, but try Vito's and see what you think.

Q:  Cannot view images sent from an iphone (embedded image).
Using exchange server with gmail.
windows mobile 6.5x energy rom
inbox shows attachment clip.
opening the email shows no image, and no option to download the image.
A:  Sounds like it may be your ROM.  The 6.5.x NRG ROMs can have some bugs at times, and the WM messaging client has never been known for its consistent stability.  I would try a 219xx based ROM and see how that goes, or another messaging client.  This does not appear to be an issue with the iPhone
Q:  The Battery on my HTC Apache(VX6700) no longer keeps a charge, but I don't really take it anywhere. Is there a way to convert the voltage on the charge so that I just directly power the phone with the charger and keep it plugged in?
I have plenty of wires and resistors and a local parts store.
PS: Yes, I've tried just keeping it plugged in, but as soon as it thinks the battery is fully charged, it starts powering up and down constantly due to the battery having Low Power.
A: I would suggest just buying a spare battery on ebay for like 4$.  If you want to charge it directly you will have to convert it from AC to DC voltage, then limit the voltage to 3.7v, then take the original battery and measure the amps. Though I would still suggest buying a new battery instead.
Q:  Every time I switch the language in Swype to Spanish the person receiving the text message gets a blank message. What's up with that?
A: Do you experience this issue when sending SMS->Email, or sending an Email->SMS? It is possible that the carrier does not support the character encoding used and the above test should better indicate it. You can send an email to an SMS by using this email address: [10-digit phone number]@messaging.sprintpcs.com (Each carrier has a different SMS email, this one is for sprint)
Q:  What are people's opinion on the fastest, most stable 6.5 ROM for a Verizon TP2? I dont care about eye candy, just speed and stability. I hate lag, lockups, and SOD.
A:  If stability is most important to you, I would go for a clean rom, aka without HTC's TouchFlo 3d (Sense UI). I would also suggest using a rom with 21916 base as that is the stable base.  Try out any titanium ROM 21916 based and see how it feels.
Q:  I hate to ask two questions, and I might have asked before, but I'm looking for a ROM that focuses on the PPC and disregards all phone elements. Still having access to the Mic is important for Skype though.
A:  I would also then suggesting going with a clean rom for this, might also help if you load up a kitchen and remove anything you don't plan on using.  Most WinMo devices have an available Visual Kitchen that you can use to make sure no bloatware is cooked into the ROM, with smaller ROM sizes, this becomes very important.

That's it for week 1.  I know it's taken me a minute to roll this out, but week 2 will be out soon as well.  We have on the horizon great things coming here including interviews with developers, and will look to implement new features into this Q&A.
If you have a better answer for any of these feel free to comment below.  And keep those questions coming!