Thanks to a recent tip from our AT&T guy, we just found out that AT&T will have mobile to mobile calling with any carrier starting tomorrow. Pics of proof included!
Official announcements have not been made but employee's are currently viewing this information on their internal information documents. We have attached an image just to show you we are for real! See below: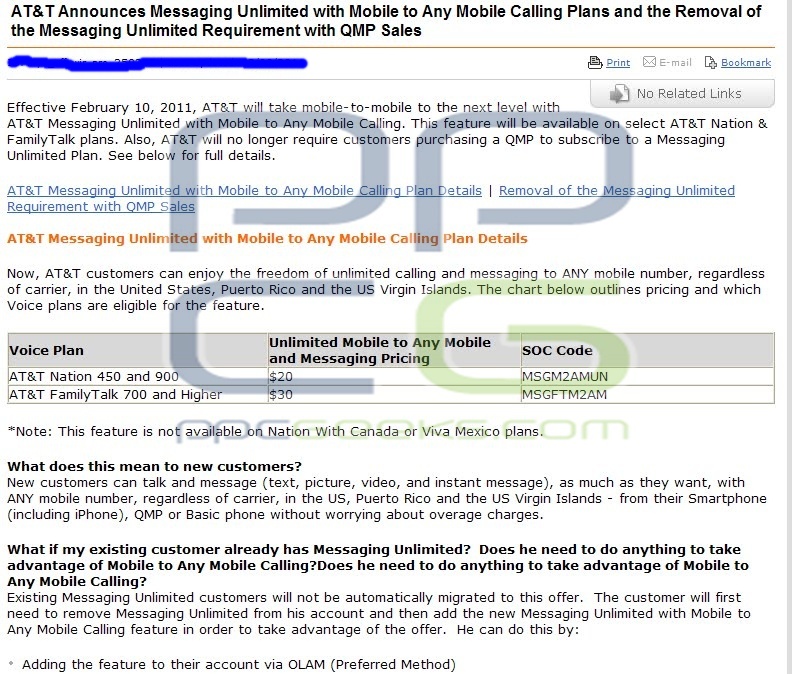 Here is the official Press Release below:
AT&T Introduces Unlimited Calling to Any Mobile Number
New Feature Offers AT&T Wireless Customers Unlimited Calling to Any Mobile Number
Go ahead and dial up those digits–no matter which wireless network you're calling. AT&T* today announced customers can enjoy unlimited mobile calling to any mobile number in America. Unlimited Mobile to Any Mobile is available to AT&T customers with an unlimited messaging plan and a qualifying voice plan**.
Beginning Thursday, Mobile to Any Mobile will be available to new and existing AT&T customers with a qualifying voice plan who subscribe to unlimited messaging plans. Existing customers with an unlimited messaging plan can activate Mobile to Any Mobile by visiting www.att.com/anymobile. The URL will be available beginning Thursday.
"Mobile to Any Mobile is an exciting offer that will keep our customers connected to the people they want to talk to, when they want to talk to them, without the hassle of watching minutes," said David Christopher, chief marketing officer, AT&T Mobility and Consumer Markets. "We're giving customers more options and even better value. And when you include Rollover Minutes, a benefit available exclusively from AT&T that lets customers keep their unused minutes for all domestic calls, including to landline numbers, it's clear that AT&T offers the most flexibility in the industry."
Unlimited messaging is available for $20 per month on an individual plan and $30 per month for a FamilyTalk Plan, which allows for up to five lines.
For the complete array of AT&T offerings, visit http://www.att.com/.
*AT&T products and services are provided or offered by subsidiaries and affiliates of AT&T Inc. under the AT&T brand and not by AT&T Inc.
**Mobile to Any Mobile Calling – Available only with select Nation and FamilyTalk plans. Direct calls to & direct calls received from US mobile numbers only. Rollover Minutes: Unused Anytime Mins expire after the 12th billing period. Night & Weekend & Mobile to Mobile mins do not roll over.
What you see is what you get. What do you think about this? Let us know!
For now, hop into our forums for discussion. Click here
Thanks Tipster