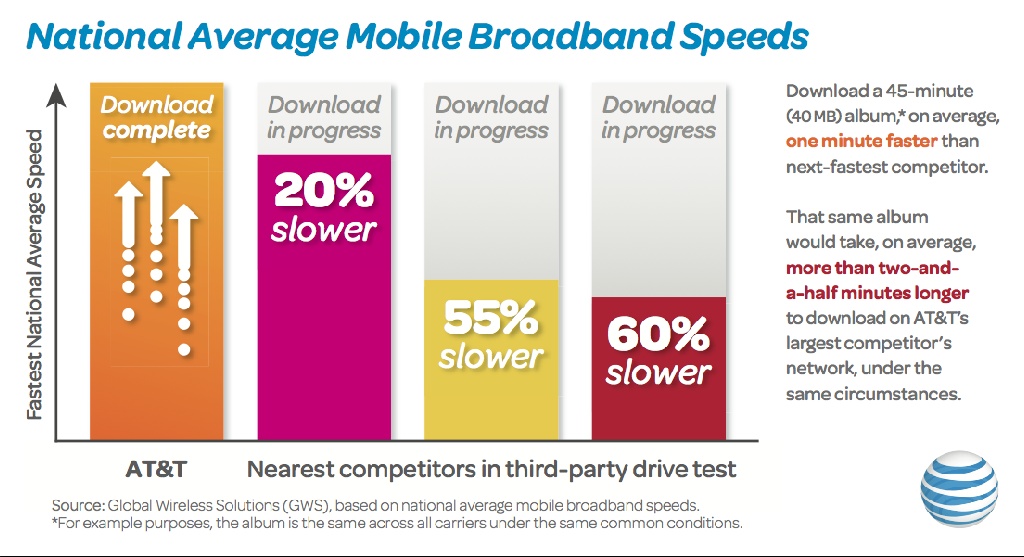 According to AT&T a comprehensive third-party test drive shows that competitors are lagging by 20 to 60 percent in national average mobile broadband speeds. Since the company has invested around $6 billion into their wireless infrastructure upgrades and initiatives in the first three quarters of 2010, AT&T is now claiming they are the nation's fastest mobile broadband network. Would you agree?
Where do they get the information to support their claim? Conducted by Global Wireless Solutions INC, a "scientifically valid national drive test" tested several carriers wireless performance across 950,000 road miles, covering 400 U.S. markets that represent 88 percent of the country's population. As a result, GWS found AT&T to be the fastest mobile broadband network, 20 percent faster than T-Mobile and 60 percent faster than Verizon. They claim that on average, a 45-minute (40 MB) album finished downloading a minute faster on AT&T's network than T-Mobile's and two-and-a-half minutes faster than on Verizon's network. Did you just get a shocking feeling? I bet some of you did!
What does AT&T have to say about it? "We're very pleased with the nationwide results of GWS drive testing, which demonstrate that we're delivering a superior mobile broadband experience on a nationwide basis," said AT&T CTO John Donovan. "Our top priority for the weeks and months to come is to continue our focus on network enhancements and improvements to ensure continued access to fast mobile broadband speeds and reliable voice service."
Wait, there's more! GWS did even more tests and found that 98.59 percent of voice calls on AT&T's network were completed without interruption, leaving them behind Verizon by only one-tenth of a percentage point. They sure are catching up aren't they?
AT&T plans to invest a total of $18 to $19 billion in its wireless network all throughout 2010 to enhance speed and coverage through additional cell sites and deployment of HSPA 7.2 and HSPA+ technology. While 2010 is almost over maybe they will continue to invest into 2011. Will they catch up with to other companies and surpass them in every aspect of the mobile industry? They seem to be trying hard and making the right moves. What do you think? According to these results? Let us know what you think.