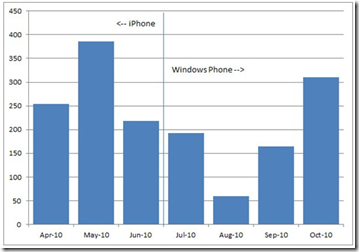 So the luming question about Windows Phone 7, and the live tiles is: How much data do we need to plan for? Is this going to be a HUGE spike in service costs since everything is live, from cloud data? Or is this going to be about same usage as other phones? Well my fellow PPCG Fans we do have an answer for you!

Although it is still early in the game it does not look like WP7 uses abnormal amounts compared to Apple's iPhone. It fact it looks like less! Well the article goes on to talk about the WP7 Voice experience, well I can sum it up for you 1 Drop call in 5 months. Hows that for you Apple Fan boys!!!

But here let me quote Paul Thurrott."I have still only dropped one call in five months of use, yes. In fact, you may know that I just spent 8 days on the road, and I made many calls in Seattle and that area, and in Las Vegas, then a call from Charlotte, NC on the way home, and then a few from Boston. Not one dropped call on the whole trip. It's been night and day, as we say."It might be noted that he is using the Samsung Focus that REPLACED his iPhone.  

Hey Apple, any comment about this? Want to blame the network again? AT&T is good, maybe the iPhone is the true issue!

So Apple iPhone users, you might want to look at this quick video… Windows Phone in 7 Minutes

Source: mobilitydigest.com
© 2010, JasonFieldz. All rights reserved.