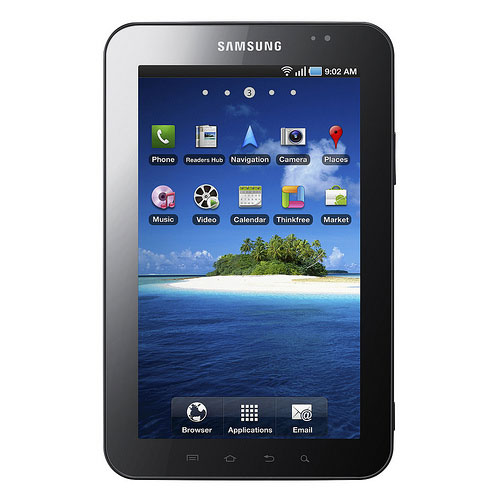 UPDATE: Plans and pricing have been revealed and we are sharing it with you. Sprint will sell the device for $399.99 in exchange for a two-year commitment to a data service plan. Sprint will also offer the tablet for $599.99 without a contract. Consumers who buy the Galaxy Tab from Sprint have to sign up for a monthly $29.99 plan that includes two gigabytes of data, or a higher end $59.99 plan with a limit of five gigabytes of data. For consumers who don't want to sign up for a contract, Sprint customers can pay $29.99 each month for 2 gigabytes of data.
The Galaxy Tab runs on Google Inc.'s Android software and is smaller than the iPad with a 9.7″ screen. Unlike Apple's device, it supports Adobe Flash, enabling it to show more video found on the Internet and many more options for everyday users. It has a camera on each side and a slot for expandable memory, among other features we will find out soon.
Source: WSJ
END OF UPDATE
UPDATE: A leaked chart is being passed around the internet confirming the launch date for the Galaxy Tablet is going to be November 14, 2010. It's always a great feeling to know that rumors turn out to be correct! We can't wait to hear opinions on this tablet. Will it have many more features than the Ipad? Some say it will but we want the facts. No word yet on price but when we find out we will let you know. Will Sprint give a better deal than Verizon is offering with their new Ipad? We will find out soon.
Notice in the chart below the launch dates for the upcoming devices at Sprint. It seems the white HTC Evo will now be available in stores as well. This means the white Evo will no longer be exclusive to Best Buy which we all knew would happen sooner or later.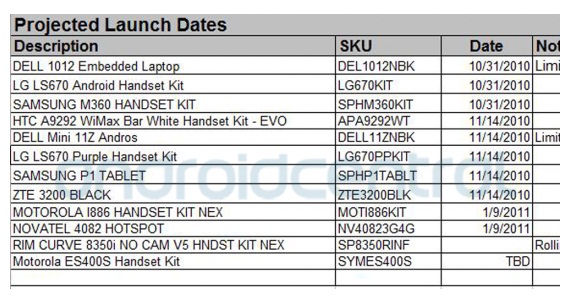 Source: Androidcentral
END OF UPDATE
Rumors were going around in September that the Samsung Galaxy may be on its way to several carriers including At&t, Sprint, TMobile and possibly even Verizon by this October or November. Speculations were that the device would have wifi and possibly be a 4G tablet. We aren't sure if it is or not just yet.
As long as BoyGeniusReports tipster isn't mistaking, Sprint will be the first to release their own Samsung Galaxy Tablet on November 14th of this year. The tipster also reported that the price for this 7″ display sized tablet will be $399 with a 2yr agreement or $599 with no agreement.
Features of the Samsung Galaxy Tablet are said to be:
7″ Display Size with TFT technology creating brighter colors and clearer pictures
Android 2.2 Operating System with Flash Player 10.1 built in
Two cameras – one rear facing 3 megapixel and one front facing 1.3 megapixel with camcorder
One-on-one video chat will be supported
Google services such as Google Maps, Google Navigation (beta) and Google Goggles will be available
The feature information provided is based on information found at BGR. Some information may or may not be different when the actual specs are released. We will update the information if anything changes.
If you haven't seen the commercial, check it out now!

Source: BGR