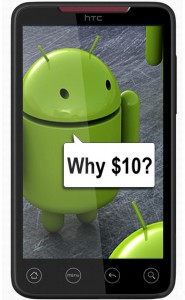 Have you ever been asked to pay for something that you couldn't receive?  PPCGeeks' very own blogger explains that the new 4G fee has exposed how Sprint is asking their customers to do exactly that.  Sprint's new HTC EVO 4G phone comes with a $199 price tag but also tacks on a mandatory $10 monthly fee that they've labeled as a "Premium Data" add-on, similar to road-side assistance.
Our blogger has been in contact with Sprint over the last week and has been asking them for one request:  simply explain the fee.
Sprint's "Premium Data" fee has been described by Sprint as a way of allowing their customers to experience data like never before.  They call this ride a "Richer Data Experience" and the admission cost is $10 per month.  The thing is, though, the blogger directly questioned the definition of "Premium Data" and was told that it is related to the phone's enhanced features, such as dual HD cameras, Snapdragon processor, 4.3″ touchscreen and even a kickstand.
The obvious question here is if this fee has any relation to Sprint's new 4G network (currently only in 33 markets).  Sprint's answer is that it doesn't matter if you are on your existing 3G network or in one of their new 4G areas – you must pay the fee.  They continue to state that this is related specifically to the phone.  That's right, customers are being told that this fee will allow them to experience a "Richer Data Experience" even if they're not in a 4G area!
Since explainthefee.com was created 4 days ago, there have been over 5,000 hits as our blogger has posted his email interactions from Dan@Sprint.com and even emails from Sprint's Public Relations department.  The site has received numerous emails from people sharing their own stories and providing their supporting comments.
Several days ago, there was a Sprint "HTC EVO 4G Playbook" that was leaked on the Internet that poses "sample" questions that customer's might ask their sales people.  One question in the playbook was "Why would someone in a 3G market buy an EVO 4G and pay for the $10 Premium Data?" This was answered with the following:
The EVO offers an unparalleled experience on 3G as well as 4G.  The combination of a 4.3 inch screen, built-in-kickstand, 1GHz Snapdragon processor, Android 2.1 and the hallmark HTC Sense experience makes HTC EVO 4G a best-in-class 3G phone.  As 4G launches in additional markets, HTC EVO 4G will take a great 3G experience (and great apps created for 3G, especially those using video) and makes it even better on 4G.
As you can see, Sprint doesn't clearly explain anything.  Again, they try to sell the "Data Add-on" as hardware features of the phone.  Our blogger has recently posted his last update titled "Just answer the questions."  This is what he wants Sprint to explain:
If the "Premium Data" charge is not for the 3G nor 4G network access and the charge is for the phone features why is it that all of the "Premium Data" features are listed as technical specifications of the HTC EVO 4G phone?  If I were to take this phone to a non-Sprint area, such as the south pole, would those "Premium Data" features work, such as the 4.3″ screen, HD Camera/Camcorder, faster processor, and even kickstand?  Would I be able to use these features in Airplane mode? If I can use those in a non-Sprint area or in Airplane mode, why must I pay $10 a month to use this "add-on" when I'm not using Sprint's data network?  Can you please explain the fee?
 You can read his ongoing saga and try to bring more attention to this mandatory "add-on" by going to http://explainthefee.com and joining thefacebook.com/explainthefee group. You can also follow the site ontwitter.com/explainthefee.
The HTC EVO 4G provides capabilities never before available on a wireless device.  The $10 Premium Data Add-on will ensure your customers receive a richer data experience and get the most out of their EVO (Not to mention customers get unlimited data on the Sprint network).
Art Work Credit: [sammich]