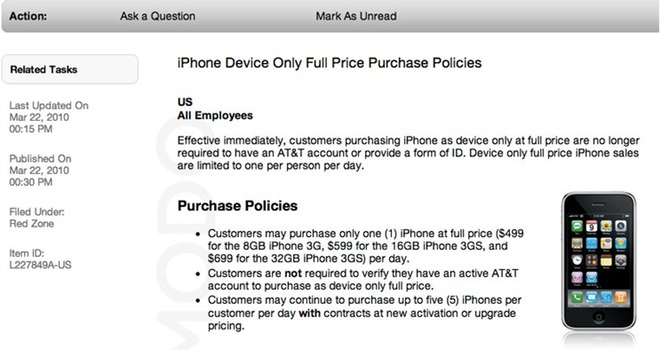 The Apple iPhone will now be sold sans a contractual agreement, according to an internal document obtained by Gizmodo. Before this, any customer who wished to purchase an Apple iPhone was required to show proof of an AT&T contract to obtain the device (through official channels at least ). Now anybody who wishes to own an Apple iPhone without a long term contract with AT&T can do so, but since these devices will still be sold SIM locked, the device will require SIM unlocking to use a non-AT&T SIM card.
The off-contract iPhones will retail for $500 for the 8GB 3G, $600 for the 16GB 3GS and $700 for the 32GB 3GS. Customers are limited to just one iPhone per day, or five if they purchase the phones with a contract.
© 2010, BigDiesel07. All rights reserved.