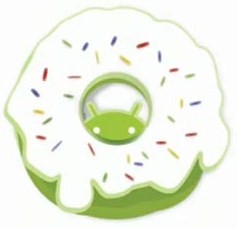 The Goods
The good people at Google have just released Android 1.6 (a.k.a. Donut). Donut appears to be fully compatible with Cupcake (Android 1.5). Android 1.6 provides greater support for screen densities and resolutions. In fact Android 1.6 now also supports QVGA and WVGA. It also now includes support for CDMA in the telephony stack which makes it compatible to U.S. networks.
The Android SDK is now available for donwload.  The 1.6 SDK requires a new version of Android Development Tools.
Google has also redesigned the search framework which now provides a quick, effective, and consistent way for users to search across multiple sources (e.g., browser bookmarks, history, contacts, and the web) directly from the home screen.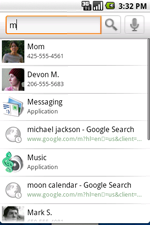 This search framework also learns which search results are more relevant based on what is selected. So your favorite apps and contacts that have previously been picked will now be displayed first as you type the first letters of a query.
Android 1.6 users will also be treated to an updated user interface that provides an integrated camera, camcorder, and accompanying gallery. This interface also features an updated camera. Launching the Android 1.6 camera is now 39% faster and there is a 28% improvement in the time from completing one shot to the next.
Android 1.6 also features a new Virtual Private Network (VPN) that will allow users to configure and connect to the following types of VPNs:
L2TP/IPSEC pre-shared key based VPN
L2TP/IPsec certificate based VPN
L2TP only VPN
PPTP only VPN
And if that's not enough (and we think it outta be), Android 1.6 will feature a new battery usage screen that lets users see which of their apps and services are consuming battery power.  If an application or service is using too much power, the user can take action to save battery power by adjusting settings, stopping the application, or uninstalling the application.
Android Market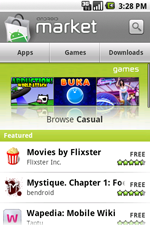 Updates are also being made to the Android Market.  The latest version improves the overall user experience and makes it easier for users and developers to co-exist.  New features include:
Users can choose among Apps, Games, and Downloads from their homescreen.
Users can then select Top paid, Top free, and Just in from inside the above categories.
Screenshots provided by the developers and user reviews will be available for Android Market products.
Android 1.6 will make it easier for third-party applications to be found when searching the device using Quick Search Box.  Developers will need to make their app "searchable" and provide suggestions in response to user queries.
Text to Speech
Android 1.6 features a multi-lingual speech synthesis engine named Pico.  Together Donut and Pico will allow any Android application to "speak" a string of text with an accent that matches the language.  The following languages are supported: English (both American and British), French, Italian, German, and Spanish.  T-Mobile G1 and Dream users can also download the Speech Synthesis Data Installer from the Android Market to experience text-to-speech.
Gestures and Accessibility
Developers working with Android 1.6 will be able to use the new Gesture Builder tool included in the Android 1.6 SDK to generate libraries of gestures to include with their application.
Android 1.6 also provides a new accessibility framework.  This will allow developers to create accessibility plugins that respond to user inputs, such as making a sound when a new window is shown, haptic feedback when navigating to the top of a list, and of course providing spoken feedback.
OpenCore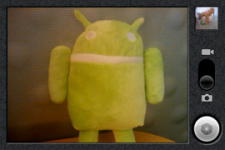 Android 1.6 includes an updated OpenCore 2 media engine which has:
Support for OpenMAX encoders
Support for additional audio codecs in AuthorEngine
Improved buffering model supports shared buffers allocated in the decoder